A complete turnaround from the 2022 NFL draft class, the '23 class looks stocked with high-level quarterback talent. A contender for the best QB is Alabama's, Bryce Young. Young is no stranger to the big stage as he led the Crimson Tide to an impressive 13-2 record and National Championship game appearance, all while in a gauntlet of a conference that was the SEC. Young not only led the team to wins, but also recorded a stellar year personally, throwing for over 4,800 yards, 47 touchdowns, and only seven interceptions, all while winning the 2021 Heisman Trophy as a sophomore. To see what kind of impact he truly has on the field, however, I dove into the film of some of his most important games this year.
PROFILE
Age: 21
Height: 6'0"
Weight: 194 lbs
Position: QB
Games Watched: Texas A&M (10/9/21), Auburn (11/27/21), Georgia (12/4/21), Georgia (1/10/22)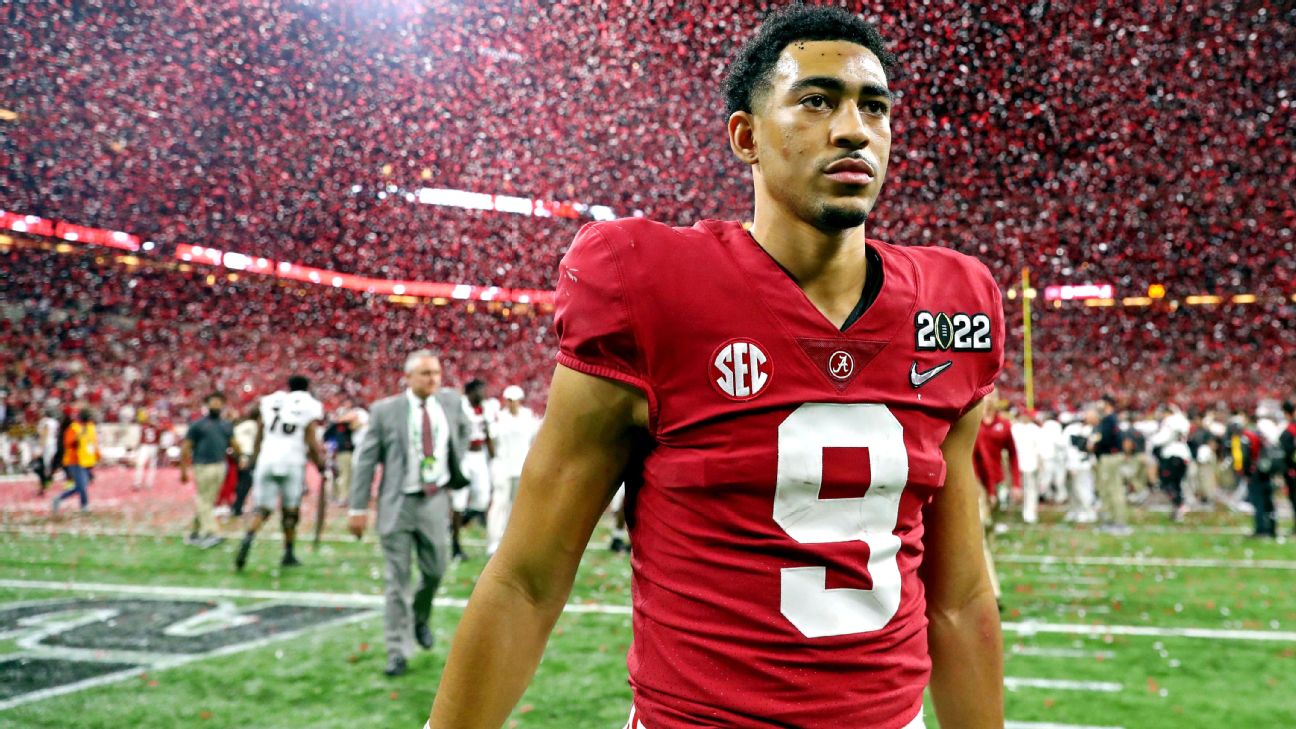 STRENGTHS
He is a very intelligent player who reads the field well and consistently makes good throwing decisions. He throws with anticipation and is very good at improvising, always keeping his eyes downfield on rollouts and floating the line of scrimmage before he absolutely has to take off. His overall accuracy is borderline elite, his arm strength is very good, and he can make almost every throw on the field. His mental and physical release quickness is also very impressive. He improved greatly in his deep ball accuracy throughout the year and was consistently cool in pressure situations. No moment seemed too big for him as he seemed to shine later in the game and on 3rd downs, always knowing his best two options on any given play. His athleticism and agility are very good and his ability to keep his balance while sliding around and ducking under sacks is remarkable. He showed on multiple occasions the ability to read a defense's coverage pre-snap and either make the appropriate adjustments or know exactly where to throw to beat the coverage.
WEAKNESSES
His height and frame certainly aren't ideal but are enough to suffice, assuming he adds enough weight to take hits regularly in the NFL. He rarely throws the ball away and tends to take sacks because of it. He shows average blitz awareness at times and frequently dips his head when inside a collapsing pocket. He tends to telegraph a pass pre-snap when he likes the mismatch/target, giving the defense an easy read on the play. When running, he leads with his head down which could lead to injury but this should be fairly easy to coach out of him. When under pressure or on the run, he sometimes throws off his back foot or with awkward positioning, causing the ball to sail on him. He rarely makes mental errors on his passes but did have multiple instances of a delay of game penalty due to not getting the play adjustments off in time.
THE BOTTOM LINE
Young is an elite talent at the quarterback position. His arm talent is exceptional with very good accuracy and strength on both power and touch throws. He makes a few coachable mental errors but his throwing decisions and mental toughness are outstanding. His frame will be the biggest thing holding him back at the next level but his talent will make it difficult for him not to succeed. His ability to covert on 3rd down or late in the game is very impressive and he is never phased by the big moment. Young has a natural feel for the position and has shown his intangibles can match his talent level. Once he builds up his frame, develops better footwork, and learns when a play can't be made, he has a chance to be a perennial Pro Bowl selection and possibly All-Pro within his first 3 to 4 years in the NFL. By the time he is eligible for the 2023 NFL Draft, I believe Young will have put enough on tape to warrant a team taking him with a top three overall selection.
Pro Comparison: Deshaun Watson