In a class as loaded with quarterback prospects as the 2023 NFL Draft class is, it can be difficult to stand out from the crowd. Ohio State quarterback, C.J. Stroud, however, is making it look easy. The Heisman Trophy finalist had a dominating year with the 11-win Buckeyes, just barely missing the College Football Playoffs. In 2021, Stroud put up a staggering 4,400 yards, 44 touchdowns, and only 6 interceptions on a 72% completion percentage. To see if his play truly matches these numbers, I took a deep dive into the potential number one overall pick's film from this past season.
PROFILE​
Age:​ 20
Height: 6'3″
Weight: 215 lbs
Position: QB​
Games Watched: Oregon (9/11/21), Indiana (10/23/21), MSU (11/20/21), Michigan (11/27/21), Utah (1/1/22)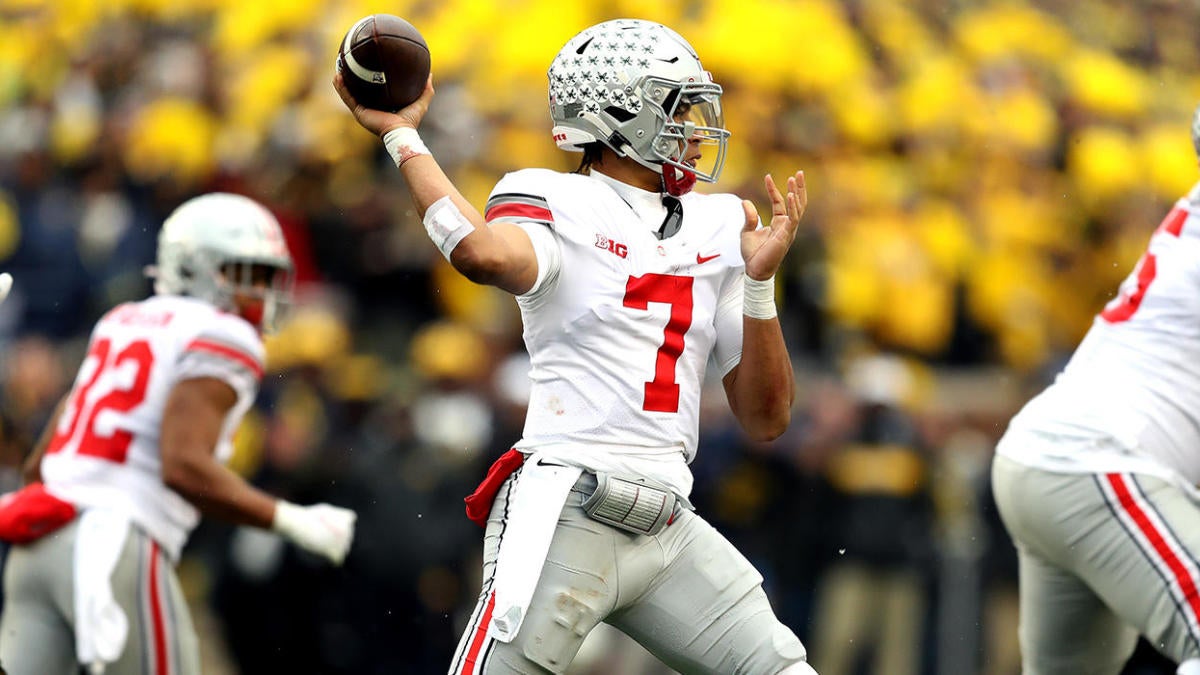 STRENGTHS​
Stroud possesses elite arm talent. He has an excellent frame and is an elite pocket passer that can torque the ball when his feet are set in a clean pocket. While not at an elite level, his speed is good enough to put pressure on the defense on rollouts and scrambles. He has a good throwing release speed and throws with the same release on every throw. His deep ball accuracy is incredible and seems effortless, almost always putting the perfect arc on the ball to where the defender doesn't even have a chance to make a play on the ball. He has the excellent arm strength to push the ball deep down the field and can put enough speed behind the ball to fit it into most tight window throws. Inside the pocket, he has a fantastic feel for when to stay or escape and consistently demonstrates the knowledge and ability to slide around and climb the pocket. When on the run, he keeps his head up to survey the field and knows how to float the line of scrimmage to look for an open man instead of immediately taking off and running.
WEAKNESSES​
He isn't asked to adjust the play frequently and rarely has to go past his first read. Due to this, he gets tunnel vision, only looks at one side of the field, and forces throws that aren't ideal. He tends to fade away and open his front foot when under pressure or on quick timing throws, causing him to sail the ball. He has poor mental release quickness overall, occasionally overthinking or not trusting the quick play will be there, making him late on many of these throws.
THE BOTTOM LINE
​Stroud is the ideal NFL quarterback on paper that has a chance to be a superstar at the next level. He is an adequate athlete with a great frame and truly elite arm talent. A natural pocket passer, his deep ball accuracy is very impressive, consistently placing the ball where only his receiver can catch it. He has a Peyton Manning-Esque slide and feel for the pocket. He can get tunnel vision at times, will force throws that aren't there, and forgets his footwork when hurrying a throw. While his release speed is good, his mental release can be poor at times as he is late on throwing windows that require quick decision-making. His negatives are almost all coachable which is very encouraging but still will plague him at least to start his professional career. If he can clean up a few of these mistakes in his junior season, Stroud should be a lock as at least a top-five pick in the 2023 NFL Draft and a frequent pro bowl sight 3 to 4 years down the road.
Pro Comparison: Trevor Lawrence​