This article is the first of a series that I will post on players I believe have the best chance to be selected with the #1 overall draft pick in the 2023 NFL Draft. And the first player I will introduce to you is Miami QB Tyler Van Dyke.
After struggling right out of the gate, losing four of their first six games in 2021, the Miami Hurricanes finished their season strong, winning five of their last six games. And the turnaround seemed to coincide with the emergence of Van Dyke (then a redshirt freshman). The Glastonbury, CT native was thrust into the starting lineup after starting QB and Heisman hopeful D'Eriq King was sidelined by injury early in the season, but Van Dyke never looked back from there. During a campaign in which Van Dyke ended up being named the ACC rookie of the year, his emergence opened up the Hurricanes' offense through the passing game where Miami came back in and won many games due to his on-field prowess.
This article will help you understand why Van Dyke will most likely end up in the conversation for the #1 overall pick for the 2023 NFL Draft and will be a superstar that you need to pay attention to this upcoming 2022 college football season.
Congratulations to Miami Hurricane Tyler Van Dyke on being named to the 2022 Walter Camp Preseason Player of Year Watch List! pic.twitter.com/ZnsVPg9fRn

— GO 'CANES! (@83_87_89_91_01) July 29, 2022
PROFILE:
Height: 6'4"
Weight: 224 lbs
2021 Season Stats: 9 games started, 2931 passing yards, 25 passing touchdowns, 6 interceptions, 62.3% completion percentage
Games Watched:
Vs Virginia 09/30/2021
Vs Nc State 10/23/2021
At Pitt 10/30/2021
Strengths:
Prototypical size for the position

Great athlete with nifty footwork and agility in the pocket and has the speed and the long strides to turn the corner for big gains and outrun defenders when necessary

Pretty good arm strength, can fit the ball at every level of the field

Superb pocket awareness to feel pressure when it's coming, really poise to evade defenders and still make plays

Quick and compact release

Really good throwing mechanics from the way he holds the ball to his stance and footwork in the pocket

Quick decision maker and fairly advanced for an offense that requires him to make multiple reads, and can manipulate an offense with his eyes

Takes care of the football, either throwing it away when nobody is open or tucks the ball in when defenders come near him, and doesn't force it into dangerous lanes

Has the mental toughness to bounce back from mistakes with big plays, and has shifted the outcome of games with his confidence, making plays down the field to rally his team.
His Best Quality: deep ball placement and accuracy, and throwing receivers open in a spot where they can still gain yards after the catch. Rarely do receivers have to adjust back to his balls.
Most Importantly: last year's Hurricanes team responded to the swagger, talent, and poise he brought from being able to win games single-handedly from the pocket, a pretty good indicator of leadership potential.
Areas Needing Improvement:
No glaring areas of weakness, it's really nitpicking at this point for me.

Can stand to improve not forcing short throws and having better control of the football upon releasing it, as a tendency to overthrow receivers there.

Although he improved there through the timeline of the games I have watched, he can still learn to be more patient with the short passing game to help him set up his deep ball game more consistently, the way he showed he could do that in the game vs the Pitt Panthers where, in my opinion, he clearly outplayed former Pitt QB and Pittsburgh Steelers first-round draft pick Kenny Pickett, who did play well too.

Can gain more playing experience with only one year of starting and coming in as a relief quarterback that was not game planned against after a whole off-season.

How he responds to the pressure and expectations built up in the preseason for him for a historic Miami Hurricanes program that is desperately looking to be the dominant force it once was will relieve his character

Will need to adjust to a new head coach this season, Mario Cristobal, the former Oregon Ducks head coach, and a new offensive coordinator in Frank Ponce, the former QB coach and OC at Appalachian State. Cristobal does have experience coaching a pretty intriguing QB prospect in Justin Herbert who now has become one of the Top 5 QBs in the NFL. The question is: will the new system accentuate Van Dyke's strengths as a deep ball thrower, or will he have to change his style of play to accommodate the system Cristobal and Ponce will want to run, as they both come from run-heavy offensive philosophies, versus the wide open, shotgun deep strike offense he ran under OC Rhett Lashlee.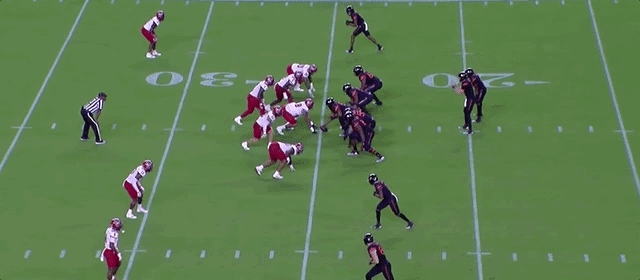 AND THAT'S THE BOTTOM LINE BECAUSE…
I am projecting Van Dyke to profile as an Elite Quarterback prospect with immense physical tools for the position (pretty good arm strength, elite deep ball accuracy and placement, pretty good pocket movement and footwork) as well as advanced fundamentals (pocket awareness, ball security, knowing when to throw the ball away or tuck it when defenders come close, moxie, and leadership) to believe he already as a high floor and could be an immediate productive rookie starter for the team that drafts him and comes in with superstar quarterback potential that will surprise a lot of people, as long as he adjusts for at least one year to his new coaching staff's system, and, hopefully, they aim at accentuating his strengths.
Pro Comparison:
A mix of Matthew Stafford and Joe Burrow due to his great size, physical tools, football IQ from the pocket, ability to maneuver defenses with his eyes and quickly progress through reads, and elite deep ball passing ability.
Games to Watch Van Dyke Play in 2022:
Sept. 17 @ Texas A&M
Oct. 29 @ Virginia
Nov. 19 @ Clemson
Draft Projection:
Top-5 pick with a legitimate chance to be the #1 overall pick with a similar season as the full-time starter. I believe he will be a Pro Bowl-type quarterback by his second season in the NFL with the potential to be a Super Bowl-winning franchise quarterback. Yes, I would beat the drum of my General Manager for Van Dyke if I were in a draft room!