NFL teams are always looking for a tight end that can be a mismatch in the passing game and a tremendous asset as a blocker. Finding players who can be exceptional at both of these phases coming out of the draft is rare, which is why teams tend to look a lot at physical traits more than production in college at that position.
This past spring's 2022 NFL Draft had no tight ends selected in the first round, with the first tight end selected being Colorado State University standout, Trey McBride, in the second round to the Arizona Cardinals. And three other tight ends were drafted in the third round to follow.

The 2023 NFL Draft looks to have at least one legitimate first-round prospect headlining this year's crop and a few more intriguing options that have Day 2 value. Wait until you read about my #2 tight end, as I feel this is a player many people may not know YET. Here are my top-5 tight end prospects for the 2023 NFL Draft so far:
1) Michael Mayer – Notre Dame
Class: Junior
Size: 6'5" 255 lbs
2021 Stats: 71 catches, 840 yards, 7 TDs

Strengths: Prototypical size; pretty good play speed and explosiveness; pretty good strength as a blocker, both run, and pass, and as a runner after the catch, a YAC monster; best blocking TE in the draft, plays with great power, hand placement and leverage, and an aggressive demeanor to bring defenders to the ground; makes tough catches in traffic routinely; runs a variety of routes.
Weaknesses: Tends to catch with his body, which will lead to drops vs physical defenders in the pros; a bit stiff, leads to trouble adjusting to off-target throws and limits his quickness in and out of cuts running routes and to fully create separation; not a lot of production as a vertical threat up the seam.

Pro Comparison: Jason Witten/Heath Miller
Draft Value Projection: Top-20 prospect overall
2) Tucker Kraft  – South Dakota State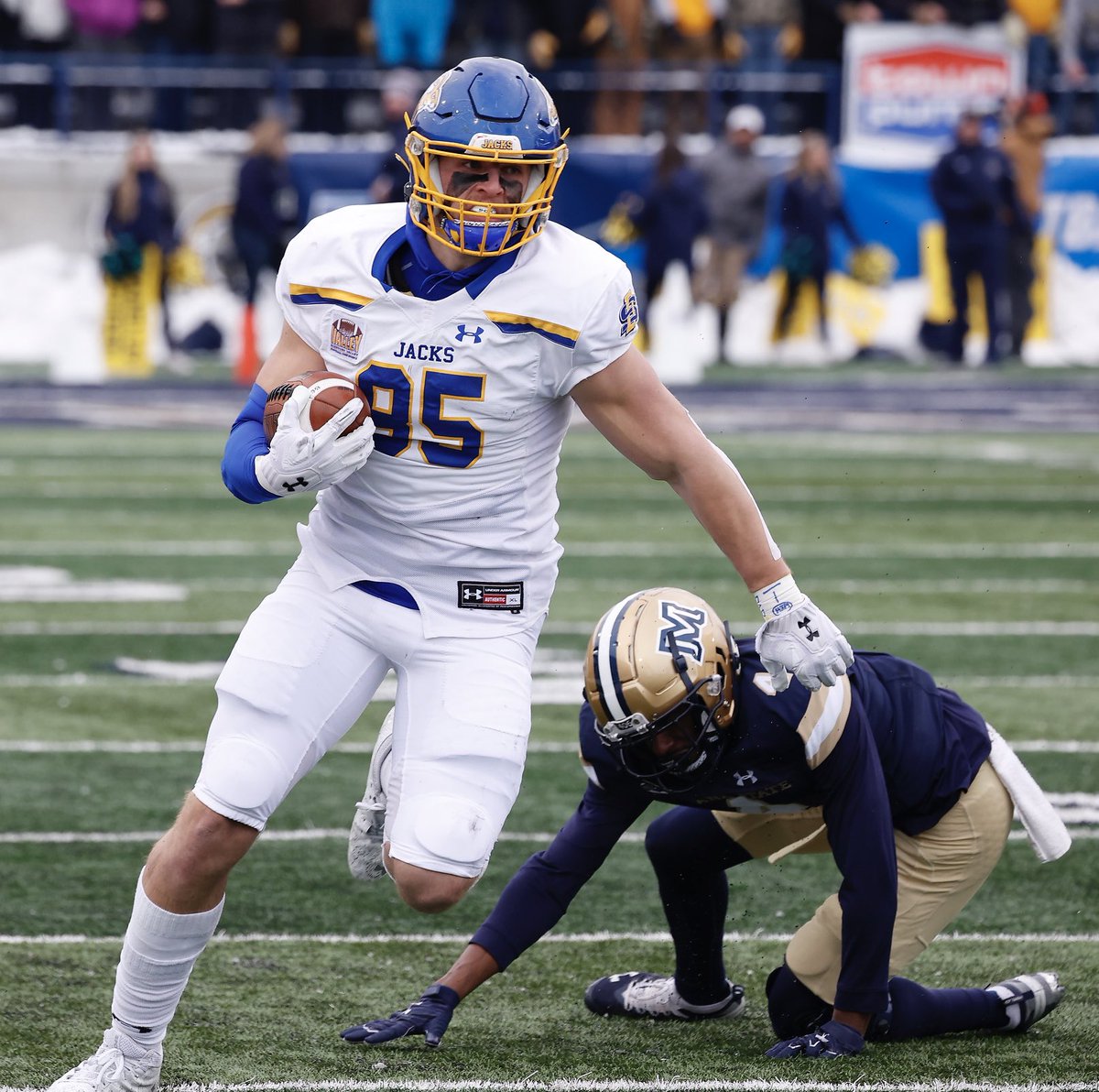 Class: Junior 
Size: 6'5" 255 lbs
2021 Stats: 65 catches, 773 yards, 6TDs

Strengths: Pretty good size and well-built body; Really good, fluid athlete with really good strength, speed, acceleration, body control, and agility; surprisingly nimble for his size and has really good change of direction skills; has soft hands and attacks the ball; instinctive, elusive and powerful runner after the catch; deep ball potential, really fast up the seam and quick off the snap; strong at the point of attack, and plays with a lot of aggression and a nasty demeanor, has a lot of pancake blocks; good awareness in pass pro vs blitzes and twists.
Weaknesses: Limited route tree, mostly used in short routes and screens, rarely thrown to when asked to run vertical routes; lacks production in catches in traffic; needs to improve hand placement on blocks to avoid penalties; can be too high at times during blocks and fall to the ground vs defenders; can lose concentration at times when the ball is in the air and some issues with penalties in the games I have watched.

Pro Comparison: Jeremy Shockey (Giants version)
Draft Value Projection: Early 2nd round, may end up in the 1st round with more exposure
3) Cameron Latu – Alabama
Class: Senior
Size: 6'5" 250 lbs
2021 Stats: 26 catches, 410 yards, 8 TDs

Strengths: Really good size and athleticism; smooth movement skills, quick feet in and out of cuts while running routes; Dynamic and versatile blocker who is super productive in-line, pulling from the wing TE position, and out in space vs DB as he plays with proper leverage, strength, and explosiveness; really good speed off the line as a route runner and acceleration after the catch in the open field; reliable TD production in the red zone; can make catches in traffic.

Weaknesses: Lacks YAC production; Not a powerful or elusive runner after the catch, lacks contact balance as he gets brought down too easily by the defenders; tends to be slowed by contact during routes

Pro Comparison: C.J. Uzomah
Draft Value Projection: Late 2nd/mid-3rd round
4) Dalton Kincaid – Utah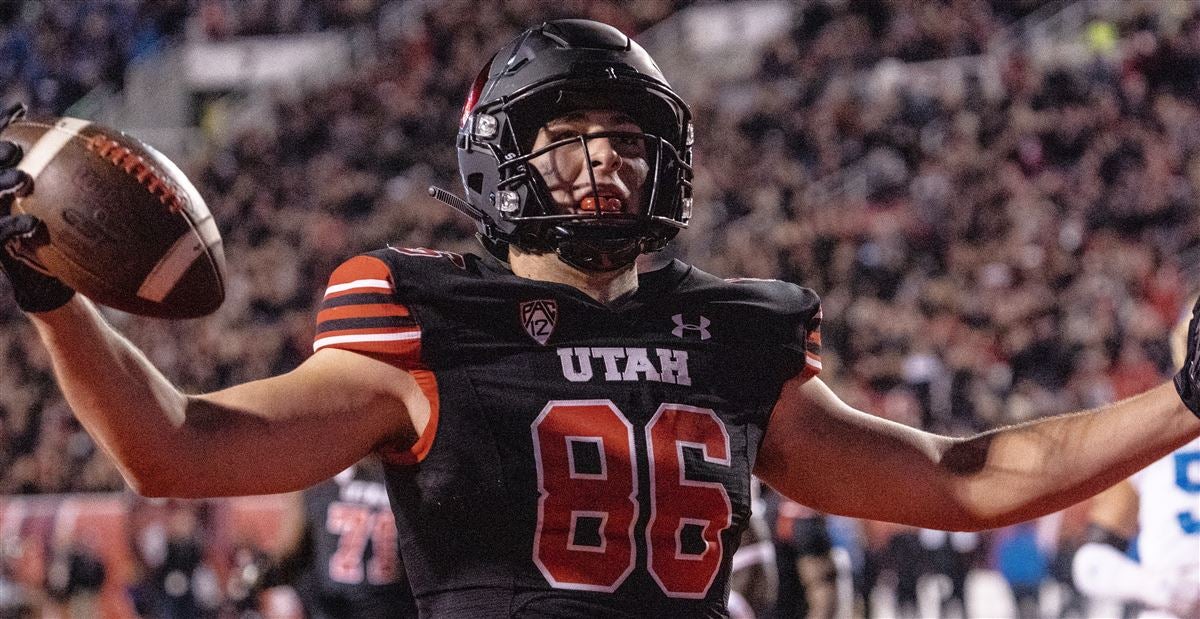 Class: Senior
Size: 6'4" 242 lbs
2021 Stats: 36 catches, 510 yards, 8 TDs

Strengths: Best route runner of the TEs I have evaluated so far, really sharp movement skills in and out of his breaks; Excellent blocker, better than I heard him being credited for, not only due to consistent technique and leverage but also plays with a physicality that puts a lot of defenders on the ground; handles jams and physicality during routes with proper hand usage and creating separation at the top of his route with suddenness; Pretty good hands and catching technique, the best so far at attack the football in the air, always extends his hands.

Weaknesses: Average athlete at best, lacks explosiveness; not the most powerful athlete, limits how he can break tackles after the catch, and not much agility to elude defenders; not a flashy prospect, will lack appeal in the draft process, but ultimately gets the job in all phases. 

Pro Comparison: Tyler Conklin
Draft Value Projection: 3rd round
5) Jaheim Bell – South Carolina
Class: Junior
Size: 6'3" 230 lbs
2021 Stats: 30 catches, 497 yards, 5 TDs

Strengths: Best athlete at the TE position in this draft; super fast, strong, twitchy and explosive; can really track deep ball and adjust his body; YAC monster who can outrace defenses and power through tackles; versatility to put the ball in his hands in a variety of spots on the field; Pretty good contact balance; nice footwork and slides his feet well in pass protection.

Weaknesses: Less than prototypical size, more like a jumbo running back or wide receiver; gives good effort as a blocker, but needs to improve motor, can seem disinterested at times; needs to add more blocking techniques as he mostly puts his body in the way of defenders instead of blocking them to move them off their spots, as the physical tools to be a dominant blocker in space.

Pro Comparison: Jonnu Smith

Draft Value Projection: 3rd round