The 2023 NFL Draft looks strong on the defensive side of the ball, headlined by stars like Alabama's Will Anderson Jr. and Georgia's Jalen Carter. There is one prospect who you may not have heard of yet but who has as high of a ceiling as any other defensive prospect in the class. And he plays for a program that isn't exactly known for producing NFL talent. Meet Andre Carter II, Army's 6'7" 260 lb. specimen of a defensive end. 
From a physical standpoint alone, Carter II will make any defensive coordinator in the NFL salivate. He boasts outstanding length to pair with his rare size and is actually a fantastic athlete as well. His burst, bend, and agility are other-worldly for a player of his size, which makes him such an intriguing prospect with sky-high NFL potential. Army even has Carter II drop into coverage at times, which really underlines how much of a unique athlete he is.
Most sacks last season…

ALA Will Anderson Jr – 17.5
ARMY Andre Carter II – 14.5
MICH Aidan Hutchinson – 14.0
WMU Ali Fayad – 13.0
MISS Sam Williams – 12.5
CCU Josaiah Stewart – 12.5 pic.twitter.com/hwaxfFZEPr

— College Football Stats (@CollegeFB_Stats) February 24, 2022
He's raw, which can be seen in his tendency to stand up too tall in his rush and his lack of refinement in deploying pass-rush moves, as well as his occasional struggles defending the run due to his handwork, gap discipline, and play diagnosis still being works in progress. Nonetheless, Carter has used his physical traits and his non-stop motor to dominate Army's competition, collecting 14.5 sacks in 2021 against numerous Power Five and high-end Group of Five opponents. If Carter II has already achieved such production despite being rather raw as a player, there is no limit to his potential if he can develop his technique during his time remaining at Army and in the NFL.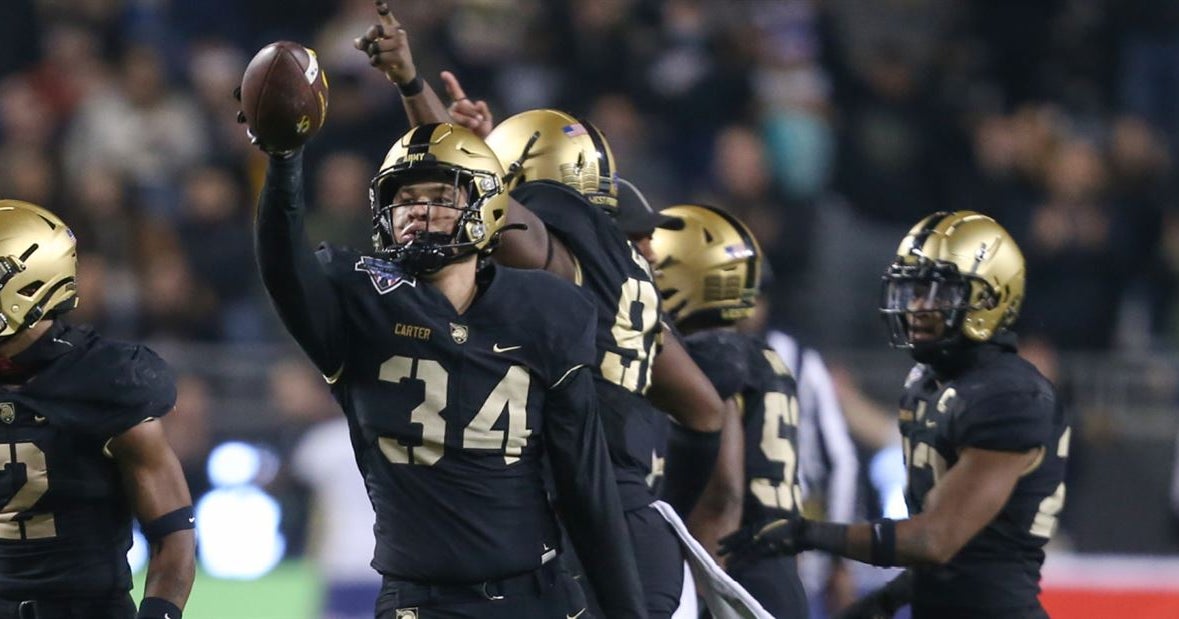 Given his production, elite traits, and untapped potential, I think Carter II has a great chance of being selected in the first round of the 2023 NFL Draft. Doing so would mean making history, since Army has never produced a first-round pick in the Super Bowl era, and hasn't done so since 1947. In fact, no service academy has produced a top-100 NFL Draft selection in the Super Bowl era. The drawback to selecting players from these academies is that they are often required to serve on active duty after receiving their diploma, but recent years have seen waivers being granted to NFL players from these academies to delay the fulfillment of their service requirement until after their NFL career. Thus, if Carter II wishes to enter the 2023 NFL Draft and immediately start his NFL career, it is overwhelmingly likely that he will be able to do so. 
Carter II is truly a unique prospect. He possesses an extremely rare combination of size and athleticism that will make him highly touted in NFL circles. And he is likely well on his way to becoming by far the highest drafted player from a service academy, such as Army. Keep an eye out for Carter II in 2022 because he'll be chasing down NFL quarterbacks and blazing the way for future draft prospects from service academies before you know it!