The East West Football Network presents this new series called "Dynasty GM's." Clayton Hoffard and Isaac Dirrim will post a dynasty rankings article each week along with appearing on a Dynasty show that you can find on either Spotify, Facebook Live, YouTube or Twitter in the near future. For those of you that thrive and live to play fantasy football, this series will entertain and get you through the long offseason. It's never too early to get ready for fantasy football. Below are the top 10 dynasty quarterbacks RIGHT NOW.
1) Patrick Mahomes – Kansas City Chiefs 
This is a no brainer. Mahomes is at the top of his game, and is linked to the Chiefs for the next several years. In dynasty football, we are always pursuing the surest things. Mahomes being a top 10 option for the next 10 years seems as safe as any bet one could take. Don't overthink this one too hard. You will have to pay to get Mahomes, but you won't have to worry about QB1 for years, and this is a position that can be locked down for years at a time. 
2) Deshaun Watson – Houston Texans
One year removed from signing a four-year, $156 million contract, Watson looks to continue his young career with a different team. That won't change the fact that he has been one of the most successful younger quarterbacks in the league the past few years. The 25-year-old has finished inside the top five among quarterbacks in total fantasy points in three straight seasons (finished fifth in 2020, fourth in 2019 and fourth in 2018). Out of every quarterback on this list, only Mahomes has outscored Watson over the last three years combined. 
3) Josh Allen – Buffalo Bills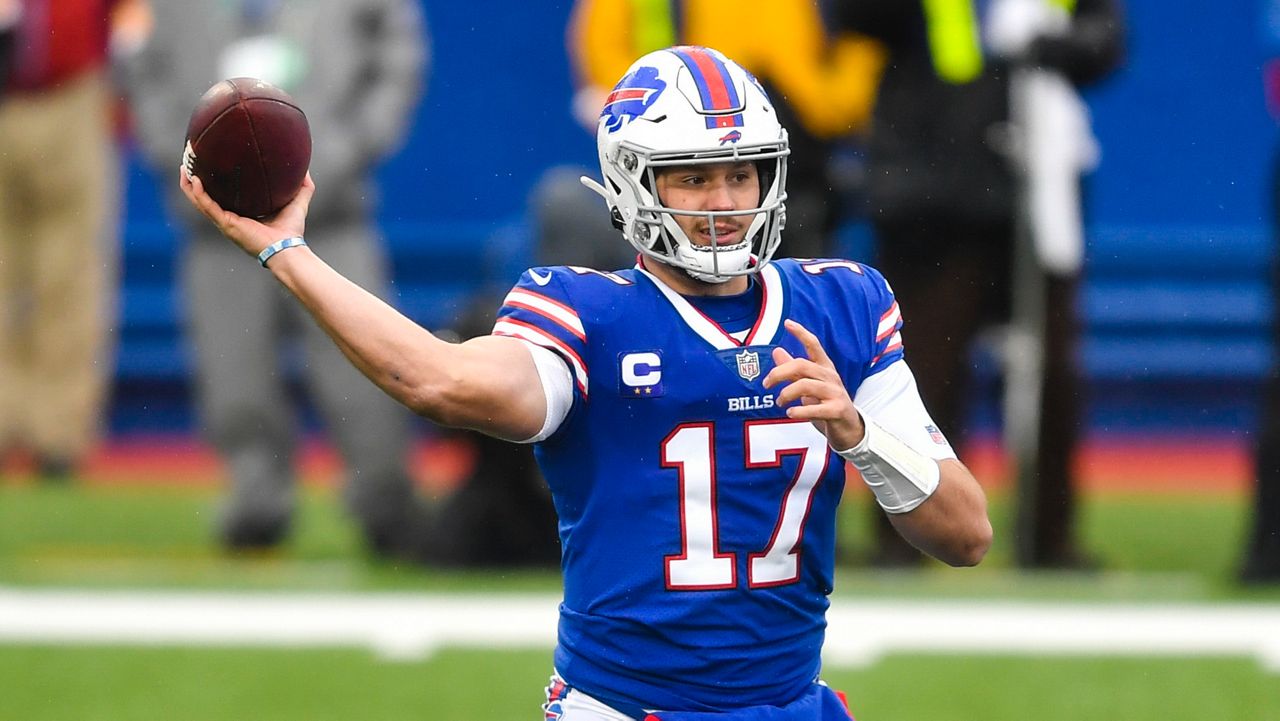 Allen has always had the tools to be an exceptional quarterback, and up to this season, he was more of an athlete playing quarterback. The addition of Stefon Diggs helped Allen take that next step. We are pursuing potential points in fantasy football. Allen's deep ball, big play potential, mixed with his rushing ability makes him a must have QB. Allen is reminiscent of a healthy Cam Newton with the way he vultures those important goal line touchdowns. More importantly, Allen has a long way to go mechanically in his development as a QB, which means those rushing attempts aren't slowing down anytime soon. 
4) Lamar Jackson – Baltimore Ravens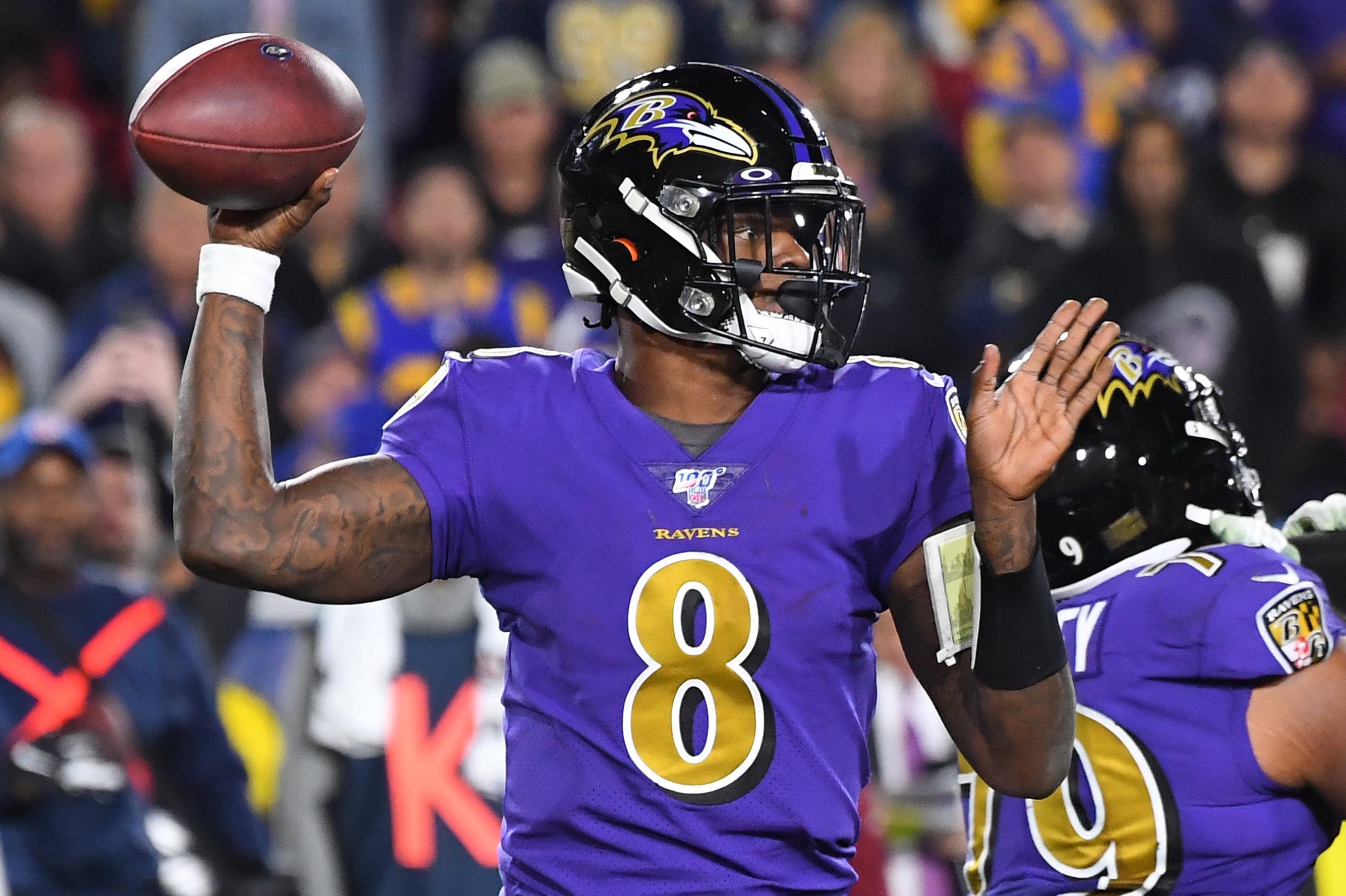 The dual-threat speedster does exceptionally well in PPR leagues. Over the last two seasons, Jackson has compiled 2,211 rushing yards in 30 games (73.7 YPG). The next step for Jackson and the Baltimore Ravens is to find a legitimate weapon on the outside that can compliment Mark Andrews on the inside. When, or if, Jackson takes the next step as a passing quarterback, he could rise on this list. For now, the 24-year-old stays inside the top five going into a year where he will be hungry for a contract extension. 
5) Kyler Murray – Arizona Cardinals 
Murray isn't a prototypical quarterback, but the offense he is asked to run isn't prototypical either. The 2019 Offensive Rookie of the Year is right at home running a similar scheme to the one he ran in college when he won the Heisman trophy. Murray is the smallest quarterback in the NFL, but he makes up for it with his lightning quickness, both on his feet and in his mental processing. He is smart about the way he exposes himself to hits, and he isn't afraid to step out of bounds or slide to preserve himself. The addition of some guy named Deandre Hopkins sped up his development, and with no consistent run game the last two seasons, I would expect Murray to continue airing the ball out. Again, we are chasing a couple things in dynasty football. Potential points and youth are the main two. Potential points is scoring ability, which with Murray means his legs as well, as he was the team's leading rusher in more games than he wasn't this season. Then there's his youth. He will be entering his third season at the age of 24. 
6) Dak Prescott – Dallas Cowboys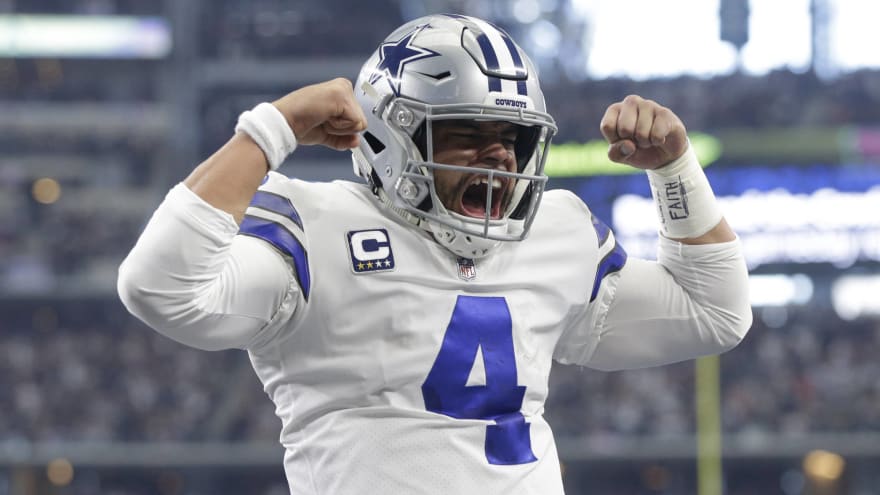 Although Prescott is coming off a gruesome injury that held him out for most of the 2020 season, he sure looks like he will be playing for the Cowboys next season. The 27-year-old has dominated fantasy football over the last several years. He even finished second in fantasy points among quarterbacks during the 2019 season (behind Lamar Jackson). Time will tell how dominant he will be after recovering from a compound fracture and dislocation to his right ankle. He isn't worth selling just yet, and most believe he will continue where he left off. His mobility might be more limited now, but he surely has the weapons surrounding him to put up tremendous fantasy numbers for years to come. 
7) Justin Herbert – L.A. Chargers
After getting his first start after a fluke incident, Herbert proved it was no fluke that he has made it to the NFL. Herbert has a big frame, and a bigger arm. It helps when you have Keenan Allen, Austin Ekeler, Mike Williams, and Hunter Henry (if he re-signs) to catch passes for him. The defense isn't quite up to par to hold teams to low scoring affairs, which means that there is going to be lots of valiant comeback attempts where Herbert is throwing the ball, and lots of garbage time points. This is high praise for Herbert to rank him this high, but his rookie season saw him surpassing the numbers of Patrick Mahomes in his first season as a starter. Herbert may not have Mahomes' ceiling potential, but falling just short would still make Herbert an elite option. 
8) Russell Wilson – Seattle Seahawks 
Amid trade rumors over the past several weeks, Wilson will more than likely suit up for the Seahawks this upcoming season. Yes, his offensive line has been atrocious for years, but the 32-year-old has shown to be one of the most durable players in the league. Surprisingly, he has never missed an NFL regular season game during his nine-year career. On top of that, he has finished inside the top ten in fantasy points among quarterbacks in four straight seasons. He even led all quarterbacks in fantasy points during the 2017 season. The only thing holding Wilson back from being higher on this list is his age. He surely looks like he has a lot of quarterback life in him, but the NFL is full of younger talent nowadays.
9) Trevor Lawrence – Rookie
Jesus of Nazareth is the only perfect human in the history of man. Trevor Lawrence is a close second though. When talking about the total package in a quarterback, it is Lawrence. He has the size, the arm, the intangibles, the athleticism, the brain, and even the hair. It isn't uncommon for a rookie to step up and make an immediate fantasy contribution (Herbert for recency bias). More notably though, we saw Andrew Luck step in, be a top flight QB option, and also lead his team to the playoffs. I'm not sure if Lawrence takes the Jaguars (we all assume he goes number one) to the playoffs, but I think he takes your dynasty football team to the playoffs. Lawrence will make instant contributions and be a guy that we talk about for years to come. He would have been ranked higher if not for the current questions around the Jaguars roster in terms of offensive weapons for him.
10) Joe Burrow – Cincinnati Bengals 
Who knows how much better Burrow would have gotten if he finished the 2020 season healthy. Although his offensive line needs to improve tremendously, he has a plethora of weapons surrounding him for years to come. The 24-year-old has a very high ceiling, and he could climb very high on this list in the future. For now, the 2020 number one overall pick sits tenth because of his lack of experience, but he surely has the tools to be a future fantasy stud. 
At the end of the day, you must make the decisions of where you want to take these guys. In dynasty, you have the potential to really be tied to a guy for several years of his career, so these decisions loom large. Another fun aspect of dynasty league football is that you can draft one of these high octane guys and trade them for assets of your choosing. This could end up being more draft picks, or positions of a greater need for you. The creativity that lays in building a roster is what makes this format so exhilarating. Having one (or more) of these ten guys will ensure your QB position is in safe hands for the foreseeable future. However, if you don't think a quarterback is important, just ask the Denver Broncos how hard football can be without one.