The "Dynasty GM's" are back with our latest dynasty running back rankings. Below, you will find our top 15 dynasty backs heading into the upcoming season. Keep in mind, this list may change after the 2021 NFL Draft as some teams will rely heavily on their new rookie running backs. 
1) Christian McCaffrey – Carolina Panthers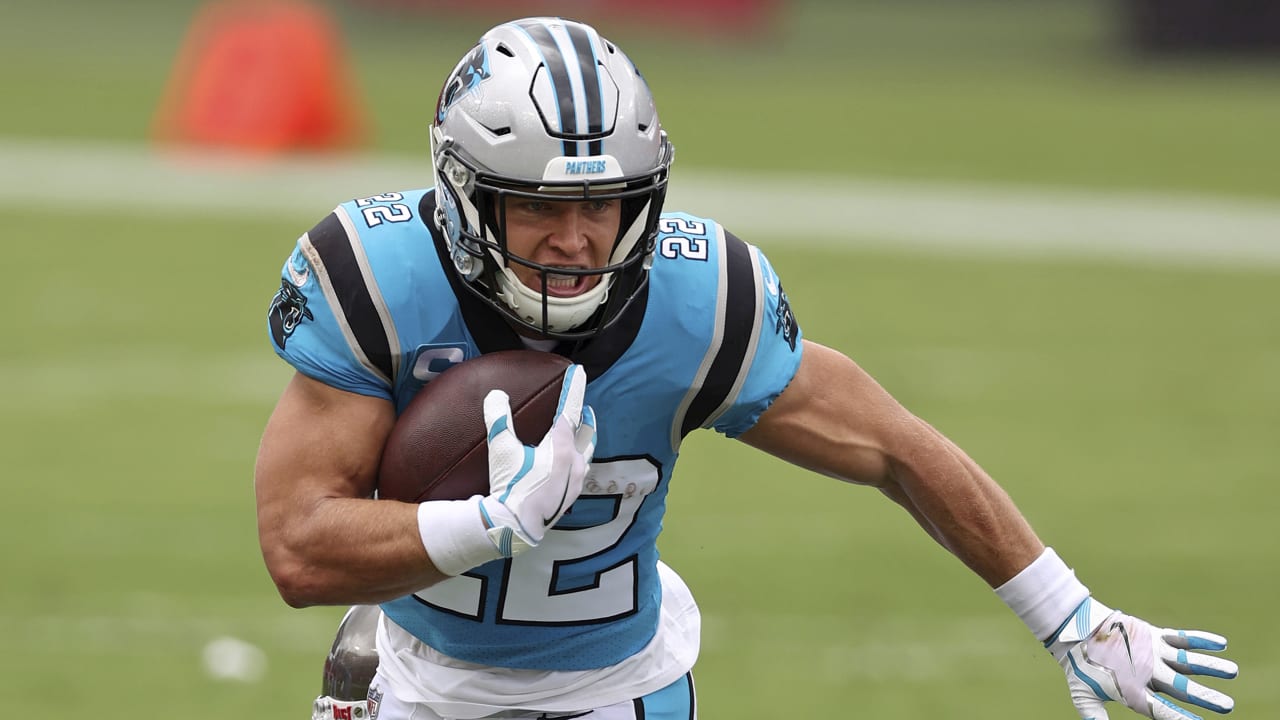 I'm not a smart man, but I know there are three certainties in life. Death, taxes, and Christian McCaffrey scoring over 20 PPR fantasy points a game. In his two full seasons as a starting RB, my guy Dairy Sanders has averaged 23.8 and 29.3 points per game. When on the field this season in limited appearances, he averaged 25 points per game. In conclusion? Run CMC is good at football. Christian McCaffrey is the undisputed king of fantasy football until further notice. ALL HAIL KING MCCAFFREY.
2) Alvin Kamara – New Orleans Saints 
Just like CMC above, he can DO IT ALL. Kamara has been one of the better receiving running backs in the league since he came in as a rookie out of Tennessee University. In each of his first four seasons, the "DO IT ALL" back has produced 326 catches for 2,824 yards and 15 receiving touchdowns. During that four-year span, Kamara leads all running backs in receptions, receiving yards, and he ranks second in receiving touchdowns (one behind McCaffrey's 16). What's peculiar about the four-year-pro is that he has never topped 1,000 yards rushing in a season. Last season was his most productive year running the ball as he compiled 932 rushing yards for 16 touchdowns (tied for second in the league). He even tied an NFL record by rushing for six touchdowns in one game. Kamara is one of the most consistent, and dominant, players you could have on your dynasty team. He only gets better and better, and he's just 25 years old. 
3) Dalvin Cook – Minnesota Vikings
Cook has proven to be a true three-down back in the NFL. He has a rare blend of size, power, and home run ability. Just how good has Cook been? When on the field the last two seasons, he has averaged 22.6 PPR points per game. This includes a career year in 2020 where he averaged a ridiculous 24.1 points per game. The only downside to Cook has been his health. Already suffering a multitude of soft tissue injuries as well as his torn ACL. The risk is worth the reward here however, as RB shelf lives aren't the greatest as is, so we aren't drafting these guys for their overall longevity. RBs get drafted for their peak performance potential. Can you smell what Dalvin is cookin'?
4) Saquon Barkley – New York Giants
"Saquads" is easily one of the most dominant players in the league today. In 31 career games, he's averaging 75.6 rushing yards per game, 4.7 yards per carry and 39.3 receiving yards per game respectively. He has also produced 23 career touchdowns. The only issue is the fact that he can't stay healthy. After a promising and dominant rookie season, Barkley struggled to stay on the field during his second season. He suited up for 13 games, but he battled a knee injury all year long. After rehabbing and recovering during the offseason, he looked "off" in his only two games he played during the 2020 season. He then tore his ACL during that week two matchup against the Bears that forced him to miss the remainder of the NFL season. Barkley is still in the top five on this list for a few reasons. First, he is just 24 years old. Second, when healthy, he is one of the most dominant and physically-gifted players at his position. Also, he is a gifted receiving back out of the backfield. During his rookie season, he finished second among running backs in total fantasy points by being dominant both on the ground and in the receiving game. Barkley produced 91 receptions (second in the league among running backs), 721 receiving yards (third among RBs) and four receiving touchdowns. 
5) Derrick Henry – Tennessee Titans 
It may seem a bit odd to put King Henry this far down the list. Yes, we know the physical traits he possesses. Yes, we also know just how he can take over a fourth quarter. Yes, we also know he rushed for two thousand yards in a season. The fact that remains is that he is not a great pass catcher and isn't used nearly enough in the passing game to elevate him over the other members on this list. What if I told you the point per game differential between his 2K yard campaign this season and last year's campaign, were separated by an average of less than a full point per game? Henry has been great at being efficient, but his lack of ability to catch passes drops his overall value. Nobody is crying at the end of the day when you are forced to take him in your drafts. 
6) Nick Chubb – Cleveland Browns
Could you imagine the Cleveland Browns without Nick Chubb? Sure, Kareem Hunt is a very talented back that can run and catch the ball out of the backfield, but he is nowhere near as dominant of a player as Chubb is. The 25-year-old back has produced two straight 1,000-yard rushing seasons, and he has yet to average less than 5.2 yards per carry in a season during his three-year-career. On top of that, he has found the endzone 30 times in 44 career games. So why is Chubb outside of the top five on this list? He's simply a non-factor as a receiving back. This hurts his fantasy value tremendously. Yes, without Hunt on the team, Chubb would have much greater numbers as a receiver. Here's the issue: Hunt just signed a three-year extension back in September tying him next to Chubb in the backfield for the time being. This means Chubb will more than likely be a non-factor once again when it comes to catching passes out of the backfield. In his 44 career games, the three-year-pro has caught just 72 passes for 577 yards and two touchdowns. Because he is so dominant running the ball, Chubb is easily a top 10 fantasy running back right now, and he should continue to dominate for years to come. 
7) Jonathan Taylor – Indianapolis Colts 
The verdict is still out on young JT. He has all the physical tools to excel in the NFL, except he has a bit of a fumbling issue, and he doesn't have natural chops in the receiving game. Despite these concerns, and an overall lackluster year in terms of feasting on bad defenses, JT turned in a good rookie campaign. In only 15 games, he ran for nearly 1,200 yards and 11 touchdowns while averaging a steady 16.9 fantasy points per game. Taylor also had to start the year behind Marlon Mack and continued to split carries with Nyheim Hines throughout the season. If given a full workload, we can expect to see more explosive plays from Taylor; and if not, this is a fantastic floor to have. 
8) Ezekiel Elliott – Dallas Cowboys
There's no questioning the fact that Elliott took a huge step back last season. He fell short of 1,000 yards rushing, he produced a career-low 4.0 yards per carry, a career-low eight total touchdowns, and he fumbled five times. You could also say Elliott's rough season occurred because Dak Prescott missed most of the year. There was an immense amount of pressure on the five-year-pro running back as he became the focal point of Dallas' offense with Prescott out. He still finished ninth among all fantasy running backs in 2020. Since entering the league, Elliott has yet to fall out of the top 10 in total fantasy points among running backs (third in 2019, fifth in 2018, eighth in 2017, second in 2016). He's also only 25 years old, and he is playing on one of the most electrifying offenses in the league (when healthy). For now, Elliott stays in the top ten among dynasty running backs. Time will tell if he slips or climbs the ranks from here. 
9) Josh Jacobs – Las Vegas Raiders 
Jacobs started the year strong showing you what happens when you give him a full workload. Injuries piled up on him though, and the production started to falter a bit as the season wore on. The upside is tremendous as Jacobs is a fantastic athlete. We just haven't really seen him truly take over the way a first-round back is expected to do yet though. My sources with the Raiders tell me Gruden calls Jacobs "Walter Payton" around the facility. Anytime you can draw a comparison to the great "Sweetness," you must be an insanely talented football player. Jacobs is that. We just need to see his load managed better. 30 carries is too much for him, but 18-22 a game would be just right for Jacobs to run rampant on the rest of the league. 
10) J.K. Dobbins – Baltimore Ravens
At one point, the Baltimore backfield featured veteran Mark Ingram, young and promising Gus Edwards and a talented/electrifying rookie back in Dobbins. As his rookie season went on, it was clear he was the feature back for Baltimore going forward. Edwards will receive his touches as he battles hard for every yard he can get, but there is something different about Dobbins, the former Ohio State Buckeye. He can both run and catch out of the backfield making him one of the more promising young running backs in the league. To end the season, Dobbins' last six games resulted in him producing 495 rushing yards (82.5 yards per game) and seven rushing touchdowns. The 22-year-old clearly has a bright future both for the Baltimore Ravens and for Dynasty Leagues. 
11) Aaron Jones – Green Bay Packers
Placing Aaron Jones this low seems downright criminal to be honest. Almost as criminal as his coach not using him for entire quarters of games and citing "saving him for the fourth" as his excuse for doing so. I missed the news story that said Jones kicked Matt Lefleur's puppy and laughed about it, but apparently that happened (obviously being facetious here). It is the only explanation on this criminal usage. Well, now that I think about it, this is the same play-caller that benched Derrick Henry in favor of scatback Dion Lewis! My point in all of this, is that Aaron Jones should be better off with his next team than he was with the Packers. The only issue? We don't know what team that will be yet. Jones is a true three-down back who can break plays at any time and is a threat from the backfield. As long as he doesn't get caught in a committee, I would expect his 19.9 PPG from the 2019 season to be his floor. 
12) D'Andre Swift – Detroit Lions 
Like Taylor and Dobbins, Swift had a promising rookie season in the NFL. He finished 20th among all fantasy running backs in 2020, but he only started four of the 13 games he played in. He also carried the ball 10 or more times in six of those games. During those six games, he compiled 427 rushing yards on 80 carries (5.3 yards per carry). He also finished the season with eight rushing touchdowns, 46 receptions, 357 receiving yards and two receiving touchdowns. After trading Matthew Stafford, it's safe to say the Lions will rely heavily on the play from Swift for the next couple of seasons as they look to rebuild their franchise. For those of you who get Swift for your fantasy, keeper, or dynasty team, expect a heavy workload for the 22-year-old tailback. 
13) Cam Akers – Los Angeles Rams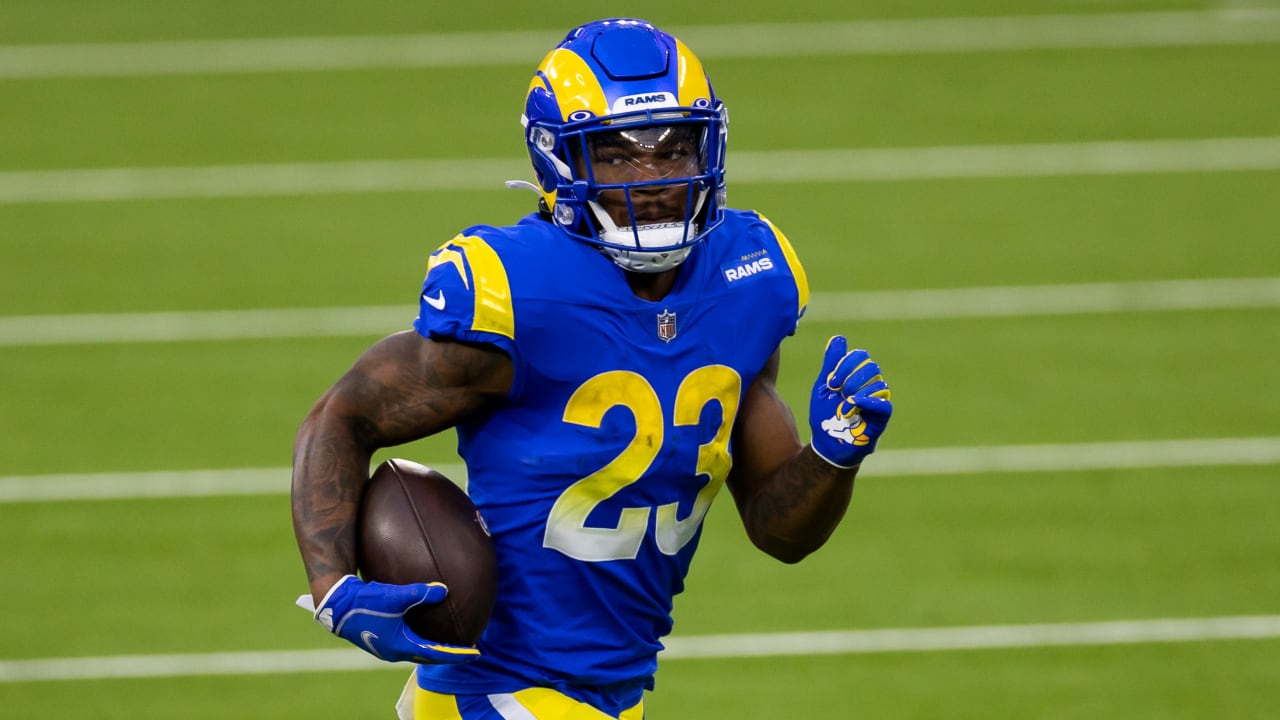 *Cue Green Acres music* Caaaaaaaaaaaam Akers is the back, for you. LAAAAAAA is the place, for he. Mr. Akers had a bit of a disappointing campaign one could say when looking at the whole season. However, he started the last five games of the regular season, churning out 424 yards rushing, which was double what he had in the 11 games before. We have seen what a running back in a McVay offense can do. Is Akers the next Todd Gurley? Certainly not. The upgrade at quarterback will do wonders for opening up the box, and getting some mismatches up front for Akers to create some big plays and score more often. This is his job to lose. 
14) David Montgomery – Chicago Bears 
FINALLY. We finally witnessed Montgomery pop off towards the end of the season to finish with incredible fantasy numbers. He was one of the hottest running backs in fantasy at the end of the 2020 season. Through the first 11 weeks of the NFL year, Montgomery only had 472 rushing yards on 131 carries (3.6 YPC) and one touchdown. In his last six games alone, he accumulated 598 yards rushing on 116 carries (5.2 yards per carry) and seven touchdowns. He has also caught 24 passes for 226 yards and a touchdown in that span as well. His tremendous late-season play pushed him to finish sixth among all running backs in fantasy last year. Expect his receiving numbers to go down with a healthy Tarik Cohen back in the offense. He's lower on this list because of his lack of offensive line power ahead of him. Nevertheless, expect Chicago to rely heavily on their 23-year-old bruiser from now on. 
15) Antonio Gibson – Washington Football Team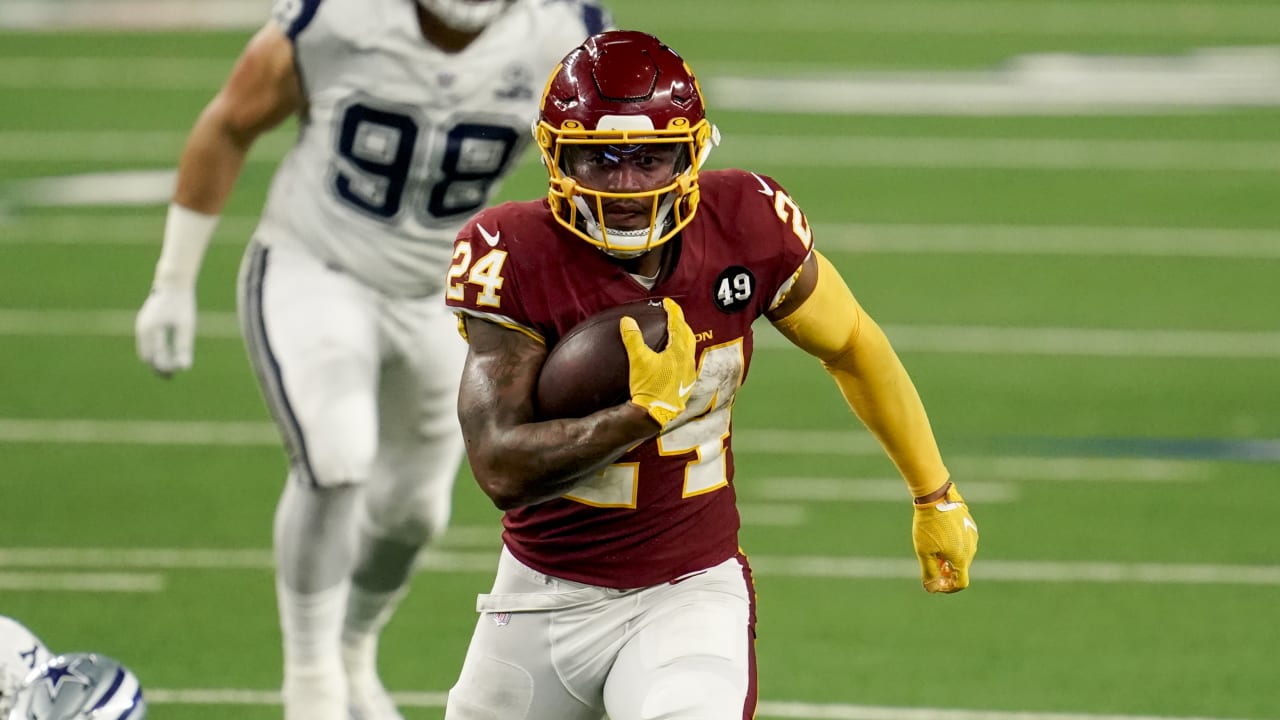 I will be the first one to tell you that I wasn't quite sure if the "Antonio Gibson Experiment" would work. Rarely does changing positions pan out for players. In this case, Gibson might have found a home. His numbers were not consistently great, but the game script rarely played in his favor early in the year, and he wasn't starting games either. This was a three-man committee for most of the season, so Gibson had to really work to pull away with the job. Ron Rivera is no stranger to giving a running back a massive workload (see McCaffrey, Christian above). His upside here is too good to pass up at his age. At RB, the shelf life is too short, we are truly trying to catch lightning in a bottle and find the next Kamara or CMC. With an upgrade at QB, and another weapon on offense to take pressure off the loaded box, it would not shock me to see Gibson elevate his game to the next level and be a major dynasty asset going forward. 
It is important that you solidify your team with a talented running back that can produce and dominate for years to come. Remember, you could be potentially tied to your running back for several years, but you also have the opportunity to trade one of your stars for assets of your choosing (draft picks, positions of greater needs, etc.). It's all on you. You are the Dynasty Gm of your own team.