The "Dynasty GMs" are back to give you our list of wide receivers we would build our teams around. When evaluating receivers, it is okay to chase more upside because if we hit a home run, we may have a player capable of contributing to our dynasty roster for seven-to-eight years! Be patient, this position is nuanced and takes time to develop! 
1) Davante Adams – Green Bay Packers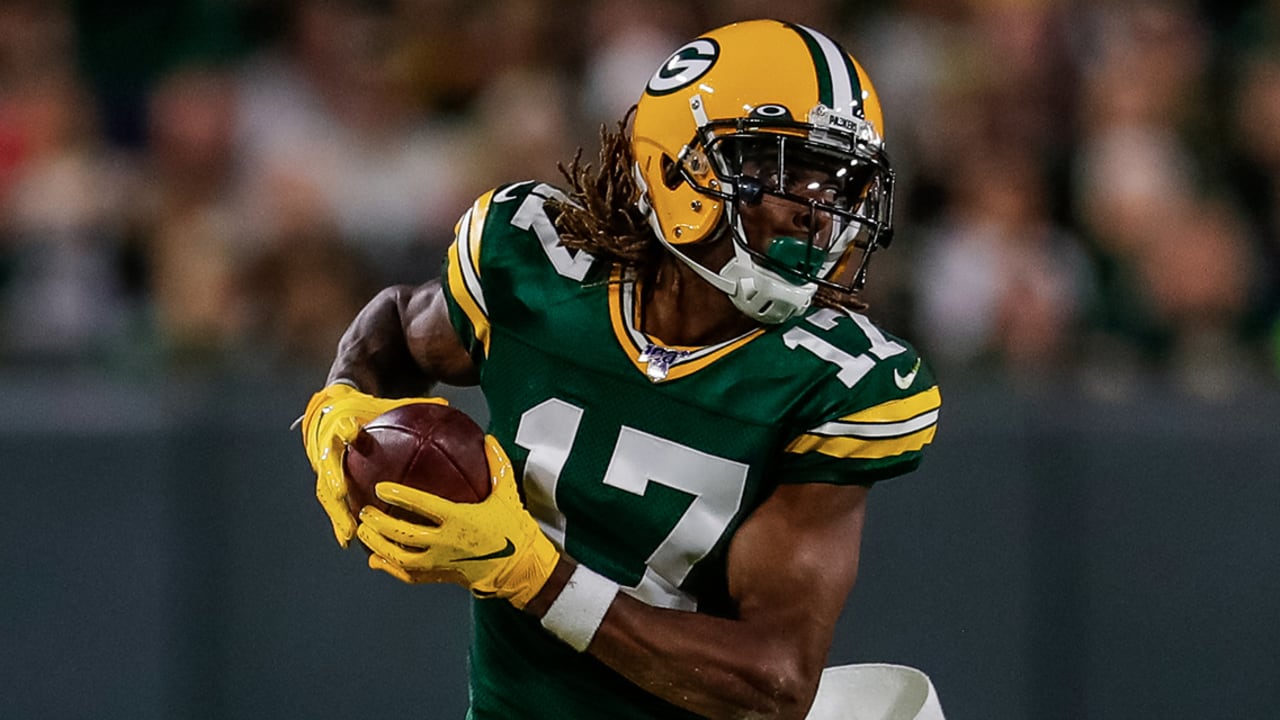 Since 2016, Adams has averaged about 12.8 Standard, 16.1 Half-PPR, and 19.3 PPR fantasy points per game. He's finished in the top-10 three times during that span and twice in the top-5. He even finished first overall in fantasy points amongst wide receivers last season. In PPR leagues, the second highest fantasy point scorer, Tyreek Hill, scored 29.5 PPR points less than Adams, and he played one more game than he did. Adams is only 28, but he has a lot of questions surrounding who his quarterback will be this upcoming season. There have been a plethora of rumors surrounding Aaron Rodgers and his unpleasant relationship with the Packers' front office. Who knows if these rumors are true or not, but nonetheless, with or without Rodgers as his signal-caller, Adams should see plenty of action for years to come. Here's an interesting stat: Adams has topped 1,000 yards receiving just twice in his seven years in the league. Why is he at the top of our list? He's coming off a season where he caught 115 passes for 1,374 yards and 18 touchdowns. The 28-year-old has also caught at least 10 touchdown passes in four out of the last five seasons. He's also playing with one of the best quarterbacks in the league. Oh, and he's playing alongside Allen Lazard, Marquez Valdes-Scantling, Robert Tonyan and now Amari Rodgers. He's easily the best receiver and demands the most attention in Green Bay's offense. 
2) Tyreek Hill – Kansas City Chiefs
Two words, but only one man, Patrick Mahomes. With Hill's game-breaking speed, he only needs one opportunity to get loose in the open field and flip your fantasy matchup. Being on the wrong end of a "Tyreek touchdown" is an awful feeling, and unfortunately for those that don't have the 27-year-old wide-out, it is something we should expect to see for years to come. This duo isn't getting broken up anytime soon, and with each passing year, we see more nuance and skill added to Tyreek's overall game. As he ages, the big plays will slow down, but his consistent production will only increase with his route running and overall understanding of the position continuously getting better. Don't overthink the top guys. He may never be a 100 reception guy, but Tyreek's career 14.6 yards-per-reception metric indicates that his style of play will more than make up for the lack of volume receptions. 
3) DeAndre Hopkins – Arizona Cardinals 
When's the last time Hopkins finished outside of the top-5 in total PPR points? 2016! In each of his last four seasons, he has respectively finished second, first, fifth, and fourth. He's also compiled at least 300 PPR points three times in his eight-year-career. On top of that, he has surpassed 1,000 receiving yards six times, 100 receptions four times, and double-digit touchdowns three times. In his first year with Arizona last season, Hopkins produced 115 receptions (tied for career high) for 1,407 yards and six touchdowns. I think it's safe to say that his fantasy production didn't dip with Kyler Murray as his quarterback. At the age of 28, Hopkins should have plenty left in the tank. That's why he is so high on this list. He's consistent, dominant, and he plays on a pass-first offense. The only reason Adams and Hill top him on this list is because of his touchdown totals. In the last two seasons, Hopkins has snatched 13 touchdowns compared to Hill's 22 and Adams' 23. 
4) Stefon Diggs – Buffalo Bills
Diggs was always the guy that you wanted every year going into drafts, but after he was on your team, you never saw consistent production. Constantly buoyed by massive 25-plus point games, his end of season ranking never truly reflected his per-week production, which was infuriating to owners. It seems this will no longer be a problem going forward though as the Bills do not view him as just a deep threat option. Diggs was attacking defenses in the flats, in the hook to curl zones, and taking the top off of defenses. He was finally delivering the performances that we had dreamed of. Diggs was the NFL's leading receiver last season. He averaged about seven receptions and 95 yards per game. His quarterback, Josh Allen, still has yet to dial in the long ball, which is what Diggs does best. We shouldn't expect 127 receptions every year, but we might see some longer breakaway touchdowns in the near future. Diggs and his quarterback seem to be on the same page, and at 27 years old, this is a tandem that could dominate the passing game for the next four-to-five years barring injuries. 
5) DK Metcalf – Seattle Seahawks 
If you're looking for a young receiver who has the potential to be a star for years to come, Metcalf is your guy. He emerged as a fantasy star last season by catching 83 passes for 1,303 yards and 10 touchdowns. His quarterback is Russell Wilson, and it looks like his relationship with Pete Carroll has rekindled. Metcalf has all of the tools to dominate each and every year. He's strong, he has good hands, and he shows blazing speed. The only thing standing in Metcalf's way is his teammates. Tyler Lockett is still a great receiver in this league that's finished top-16 in fantasy points, amongst wide receivers, three seasons in a row. Seattle also drafted D'Wayne Eskridge in this year's draft. But let's make one thing clear. Metcalf is THE top receiver for Wilson and the Seahawks, and he's surely one of the best fantasy football receivers in today's game. To go along with that, Metcalf is only 23, and he's entering just his third season in the league. Don't be surprised if he climbs the ranks on this list in future years. 
6) Michael Thomas – New Orleans Saints
You might be getting an absolute steal here. Most people operate on a "What have you done for me lately?" basis. In dynasty football however, this is about seeing the value where others do not. Michael Thomas was the most consistent WR we had ever seen through his first four years in the NFL. He has the best catch-percentage in the NFL over that time frame. Thomas also has something the other members on this list may not necessarily have, and that is guaranteed volume, as he is the only true receiving threat currently under contract for New Orleans. Some thought that Thomas might just be a product of Drew Brees like so many before him, but he proved that he can put up WR1 numbers with Taysom Hill and Teddy Bridgewater under center over the last two seasons. Thomas does his winning with his sure hands and his route running abilities. This is something that will allow him to win in the NFL for the foreseeable future. This isn't just a draft pick for a couple seasons, Thomas is a guy that will translate into a starting caliber player down the line until he simply can't lace the cleats up anymore. 
7) Justin Jefferson – Minnesota Vikings
There is such a thing as a sophomore slump, but we're talking about Justin Jefferson here. The one-year-pro is coming off a rookie season where he broke the rookie receiving yards record with 1,400. He also hauled in 88 receptions and seven touchdowns as well. His impressive rookie numbers were good enough to place him sixth amongst all wide receivers in PPR fantasy points last season. At just 21 years of age, Jefferson has a lot more to prove at the pro level. It's hard to place one-year-pros in the top-10 in dynasty rankings, but Jefferson sits at this position because of his special talent. His touchdown receptions could increase as Adam Thielen ages (32), and the departure of Kyle Rudolph certainly helps as well. For now, Jefferson looks to be one of the more important wide receivers in dynasty football leagues today. 
8) Calvin Ridley – Atlanta Falcons
Julio Jones has been the cornerstone player and receiver for the Falcons for right at a decade, but Calvin Ridley has proved that he deserves your defenses' attention. Having his first 1,000-yard campaign of his career, Ridley started out last season on an absolute warpath. Going for 349 yards and four touchdowns on 21 receptions, his first three games of the season were certainly memorable. Ridley (26) is considered older to be going into his fourth season as a pro, but with the addition of Kyle Pitts and the potential loss of Julio Jones via trade, Ridley could be the only weapon Matt Ryan has that he trusts. The Falcons also haven't addressed their defense in the way they have needed to the last two seasons, so this is a team that we expect to be playing from behind to be competitive. Ridley should see some good numbers coming from garbage time. 
9) Keenan Allen – Los Angeles Chargers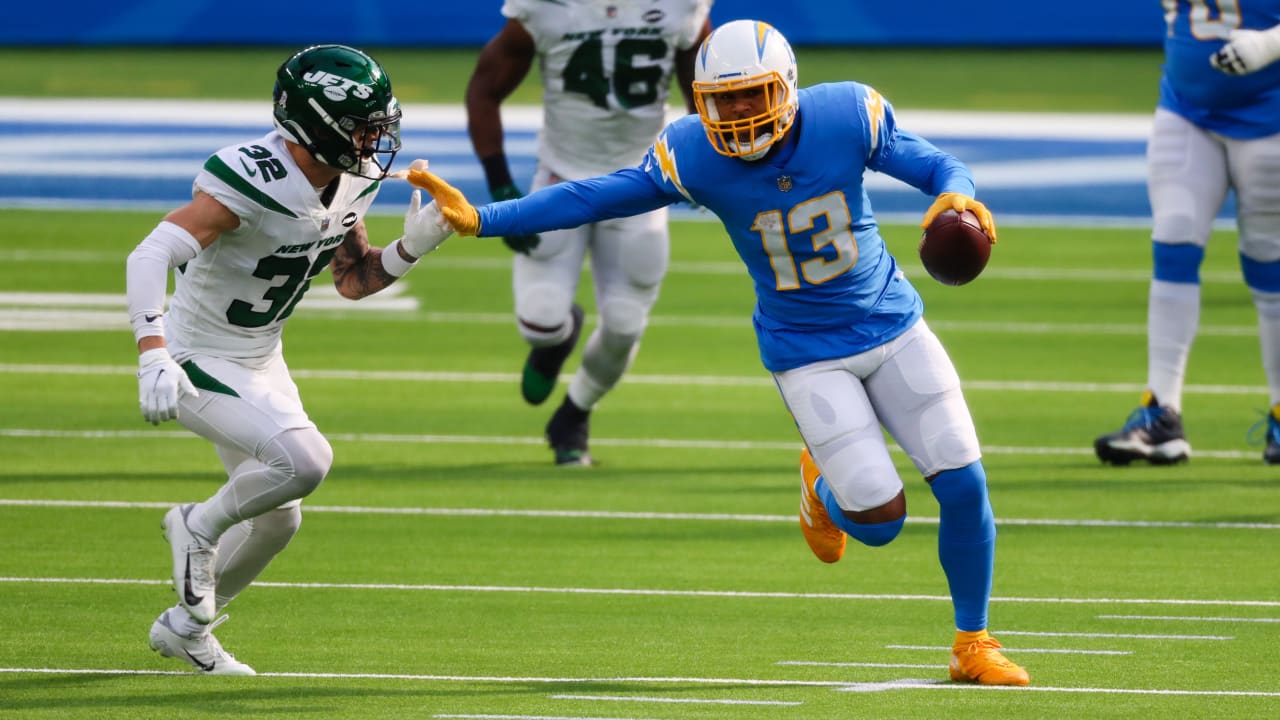 Since 2017, Allen has finished inside the top-15 every year, along with a couple of top-6 finishes as well. He now plays with one of the more prolific, young passers in today's game (Justin Herbert). And every season, fantasy owners worry about Mike Williams taking over as the team's top target over Allen, but it never happens. Williams' best finish came in 2018 when he was the WR32. He's also regressed in each of his last three seasons in the league (PPR points). Allen, however, fell eight yards short of posting his fourth straight 1,000-yard season last year. He's also caught at least 100 passes in three of the last four seasons. The only knock on Allen throughout his eight-year-career has been his touchdown totals. His career-high in touchdown receptions is just eight, and that came last season with Herbert as his quarterback. Allen is now 29-years-old, but he's certainly one of the more consistent fantasy wide receivers in today's game. 
10) AJ Brown – Tennessee Titans
AJ Brown plays football like he is pissed off. His style of play is certainly scary because he truly gives his maximum effort on every single snap, and he doesn't back away from a hit. This unique play style from a wide receiver has yielded some good results though, and this cannot be ignored. The 23-year-old has had back-to-back 1,000-yard campaigns and did not seem to experience the dreaded "sophomore slump" that some anticipated him to have. Brown showed us his toughness this season as well, by playing through two bum knees that he had surgically repaired after the season. Brown is going to be the benefactor of the Titans losing Jonnu Smith and Corey Davis. We seek production in this game of fantasy football, and production is directly correlated to opportunity. Brown will have more opportunity to catch footballs than several of the other guys on this list, which earns him such a high ranking. 
11) Allen Robinson – Chicago Bears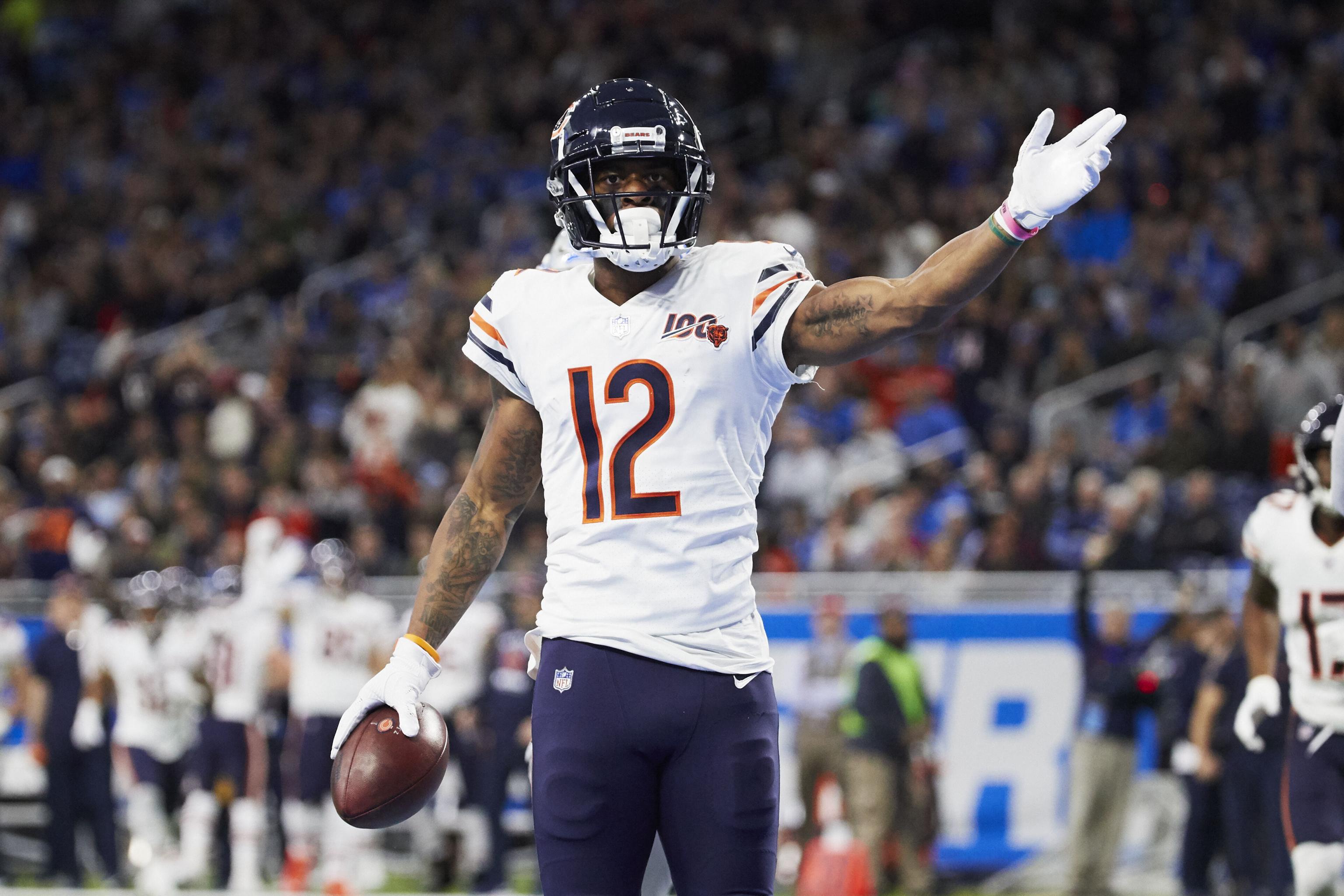 Robinson has played with four different "primary" quarterbacks throughout his seven-year-career: Blake Bortles, Chad Henne, Mitchell Trubisky, and Nick Foles. Now he has the chance to play with both Andy Dalton and rookie Justin Fields. Besides Fields (because he is a rookie), every quarterback mentioned has been benched for poor performances at some point. Hence, Robinson has yet to play with an above-average quarterback in his career. Yet, he has been one of the most consistently dominating players at the wide receiver spot since he entered the league. It doesn't matter if Dalton or Fields is his quarterback, Robinson WILL produce. He's topped 1,000 receiving yards three times, 80 receptions three times, and he's finished in the top-10 amongst fantasy wide receivers three times as well. The 27-year-old finished as the WR9 last season with two different quarterbacks starting at least seven games. Robinson snatched 102 of his 151 targets for 1,250 yards and six touchdowns. He's a sure low-end WR1/high-end WR2 for fantasy leagues, and it seems like he's consistently in that range nearly every year. 
12) Ja'Marr Chase – Cincinnati Bengals
Ja'Marr Chase is our first rookie to land on this list, and he falls ahead of some notable names. We haven't seen Chase play in over a year, but he is reuniting with a quarterback whom he already has great chemistry with. This may not yield a great return initially, but the Bengals drafted Chase to build the franchise around, along with budding star Joe Burrow. Chase will compete for targets his first year with Tyler Boyd and Tee Higgins, but as we have seen, you draft talent instead of drafting the perfect situation, and talent always wins in the end. Chase's 4.38 40-yard dash time and 41-inch vertical are going to allow him to attack defenses vertically and go high-point the football. 
13) CeeDee Lamb – Dallas Cowboys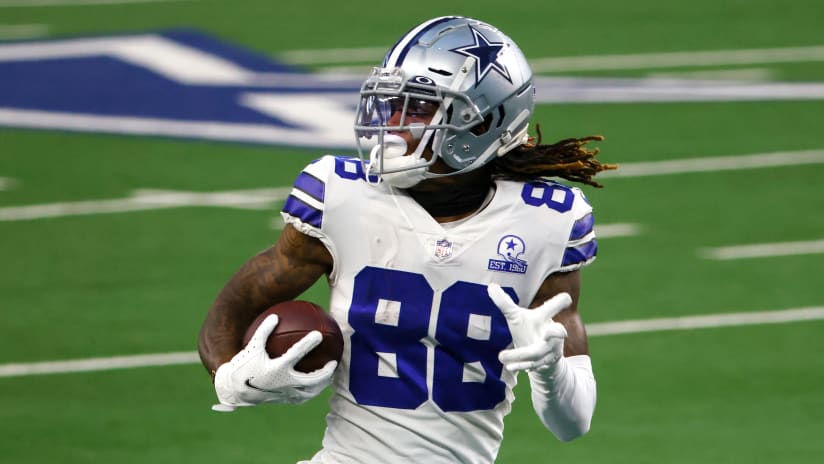 If it weren't for Justin Jefferson's amazing rookie season last year, everyone would be talking about CeeDee Lamb as the top second-year receiver entering the 2021 season. What hurts Lamb's production is the fact that he plays next to both Amari Cooper and Michael Gallup. Cooper had the edge over Lamb as the Cowboys' top receiver option last season, but it looks like Lamb is primed to pass him soon enough. With Dak Prescott coming back as his primary quarterback, Lamb's numbers should increase this season. Lamb produced 74 receptions for 935 yards and five touchdowns as a 21-year-old last season. Gallup is in the final year of his rookie contract this season, so it looks like Cooper and Lamb will battle for the team's top receiver spot for the next few years. With Lamb's upside and young age, he should become Prescott's top target over Cooper at some point. 
14) D.J. Moore – Carolina Panthers
D.J Moore is a name you are hearing more regularly in the fantasy community, and it is starting to sound like a Stefon Diggs "this is the year" situation, where we are waiting for the breakout season. Many thought that would be last season, but he only secured 66 catches for 1,100 yards and four touchdowns. Let's analyze that situation though. The Panthers' offense is centered around dynamic playmaker Christian McCaffrey. McCaffrey, as we know, missed the majority of the season last year. Moore also had a new starting quarterback in Teddy Bridgewater, who struggled to move the ball downfield and throw touchdowns overall. Moore actually accounted for 27 percent of the team's receiving touchdowns. Now Moore is going into his fourth season, and is only 24 years old. He gets a full offseason to actually workout with his new quarterback, Sam Darnold. Moore is a savvy, veteran receiver, so if he hits this season, you have a stud for years to come. If he needs another year to come along, he will still only be 25 years old and younger than Calvin Ridley.
15) Courtland Sutton – Denver Broncos
Sutton has been dismissed by some in the fantasy football world. Yes, he missed nearly the entire season last year, but he was dominant the season before. During the 2019 season, the then 23-year-old caught 72 passes for 1,112 yards and six touchdowns. Playing alongside Jerry Jeudy, Tim Patrick, Noah Fant, and K.J. Hamler should serve him well, as it opens the field for more pass-catching opportunities. He's still very young (25), and he should enter this season fully healthy. There are rumors that Aaron Rodgers could be traded to Sutton's team. Nonetheless, even with Teddy Bridgewater or Drew Lock as his signal-caller, Sutton should have no issues resuming the role as Denver's top receiving option. He also has a large frame for a receiver (6'4" and 216 lbs), so he should be a dangerous red zone target for years to come. 
16) Chris Godwin – Tampa Bay Buccaneers
Godwin was highly coveted after his breakout 2019 season. Looking at the overall numbers his season was nothing special, but what if I told you his season was just as impressive as 2019? Godwin had 840 yards on 65 receptions for seven touchdowns, and the interesting thing to know was that he did all that in 12 games. When broken down on a full season scale, this equates to 1,120 yards on 87 receptions for nine touchdowns. His target-to-catch rate also jumped from 71 percent to nearly 78 percent. Another key factor is the shift towards the struggling Tom Brady, who didn't like to throw the ball downfield like his predecessor, Jameis Winston did. So essentially, barring injuries, Godwin was going to have a very similar year to his 2019 breakout campaign. Look for Godwin to fall to you in drafts, and then smile for getting the 25-year-old receiver as a massive steal for your team. 
17) Amari Cooper – Dallas Cowboys
As mentioned before, CeeDee Lamb should take over as the Cowboys' top receiver at some point, but for now, Cooper has the edge. He's still very young (26), and he's playing with one of the best quarterbacks in the league (Dak Prescott). His worst season came in 2017 with the then Oakland Raiders as he only hauled in 48 receptions for 680 yards and seven touchdowns. He finished as the WR36. Since then, he has yet to fall short of the WR19. Last season, he finished as the WR15 with Andy Dalton throwing him passes for most of the season. With Prescott as his quarterback, he's averaging 5.7 receptions, 77.9 yards, and 0.5 touchdowns per game. In a 17-game season, that equates to about 97 receptions for 1,324 yards and nearly nine touchdowns. As long as Prescott stays healthy, Cooper should easily be AT LEAST a WR2, in fantasy, for a long time. 
18) Devonta Smith – Philadelphia Eagles
Devonta Smith continues to make believers out of us all. His college teammate, Jaylen Waddle, was expected to be the focal point of the offense, but he was lost to injury early in the season. So, Smith stepped into WR1 shoes and put on a show. There are going to be some growing pains here, and this pick, much like Chase, is not going to give you instant gratification. The key to this format though is identifying talent, identifying a good situation, and letting nature take its course. Smith will be paired with a young quarterback in Hurts that will be doing plenty of developing on his own, as he learns the nuances of the quarterback position in the NFL. Smith and Hurts have a chance to grow together though, and I'd expect, with a talent void of pass-catchers in Philadelphia, Smith will step right into some sort of role on the starting offense. The main concern here is his frame and the guy getting him the ball. Hurts needs to develop further as a passer, and Smith quite frankly needs about another 15 pounds of solid muscle. Overall, his talent is undeniable, and Smith could be a future star in this league. 
19) Mike Evans – Tampa Bay Buccaneers
Last season was considered a down-year for Evans, and he still caught 68 of his 122 targets for 1,051 yards and 12 touchdowns. Since entering the league in 2014, Evans has yet to fall short of the 1000-receiving yards mark. He's also finished inside the top-15 consistently. Last year, he finished as the WR11, and in years prior, (in order from 2014) he finished 13th, 23rd, third, 17th, ninth, and 15th respectively. Even playing alongside Chris Godwin, Evans continuously hauls in touchdown receptions. He has caught at least eight touchdowns in five of the seven years he's played in the league. He might seem like an older receiver, but he's only 27, and he should have a lot left in the tank. It also helps that he has Tom Brady throwing him passes regularly. 
20) Kenny Golladay – New York Giants
Kenny Golladay has been referred to as "Babytron" for several seasons now. It looked as if he was coming into his own during 2019 as he caught a staggering 11 touchdowns on only 65 receptions. For those keeping track at home, that means he caught a touchdown nearly every sixth reception! Daniel Jones has shown us glimpses of a good starting quarterback in the NFL but hasn't been able to piece it all together just yet. In his defense though, he has had no weapons. Golladay will be the best weapon he has ever had, and he will also have help in the form of tight end Evan Engram, running back Saquon Barkley, and rookie wide receiver Kadarius Toney. The Giants are gearing up to have a prolific offense to keep up with the other potent offenses in the NFC. Golladay should lead this group in targets and the ever so valuable red zone looks. 
21) Terry McLaurin – Washington Football Team
McLaurin is entering his third year in the league, and he is considered a prime candidate to break out this year. Last season, he increased his receptions from his rookie season by 29 and his receiving yards by 199, but he did catch three less touchdown passes. Last season, he finished as the WR20, but he's fully capable of finishing inside the top-10 this season. During his two-year-career, he has played with six different starting quarterbacks. In his rookie season, Case Keenum, Dwayne Haskins, and Colt McCoy each started at one point. Last season, Dwayne Haskins, Kyle Allen, Alex Smith, and Taylor Heinicke started at some point. Entering this upcoming season, Ryan Fitzpatrick looks to become Washington's new starting quarterback, and he could be McLaurin's top signal-caller to this date. "Scary Terry" is just 25 years old, and he doesn't have another wide receiver on his team that should take away any of his fantasy value anytime soon. 
22) Cooper Kupp – Los Angeles Rams
Fantasy football is very similar to the stock market. We analyze numbers, find trends, buy low, sell high, try and establish value, and hopefully win some money. When evaluating the career of Cooper Kupp, he had a terrific rookie season, and then a down sophomore year. He followed this up with a career best year in 2019, to then fail to score more than three touchdowns in 2020. Following this trend analysis, Kupp should have a good year this season. He has received a boost in quarterback play going from Jared Goff to Matthew Stafford, and he should see better production in the running game from Cam Akers. Kupp is soon to turn 28, and he won't ever put up 40 points for you, but he will be a consistent point scorer as he works out of the slot for Sean McVay.
23) Odell Beckham Jr. – Cleveland Browns 
At one point, OBJ was considered one of the top receivers in the league. He has been riddled by injuries the past few years, but when healthy, he produces great fantasy numbers. He should be fully healthy entering the upcoming season, and he plays on one of the best offenses in the league. His surrounding teammates: Jarvis Landry, Austin Hooper, David Njoku, Kareem hunt, and Nick Chubb do hurt his fantasy value, but he should still produce terrific fantasy numbers if he plays nearly a full season. Beckham Jr. is still young for his position (28), and he has one of the better skill sets as a receiver in the NFL. In each season that he has played in at least 12 games, OBJ has yet to fall short of 1,000 receiving yards. His 83.3 yards-per-game average is one of the highest amongst active wide receivers who has played at least five seasons in the league.  
24) D.J. Chark Jr. – Jacksonville Jaguars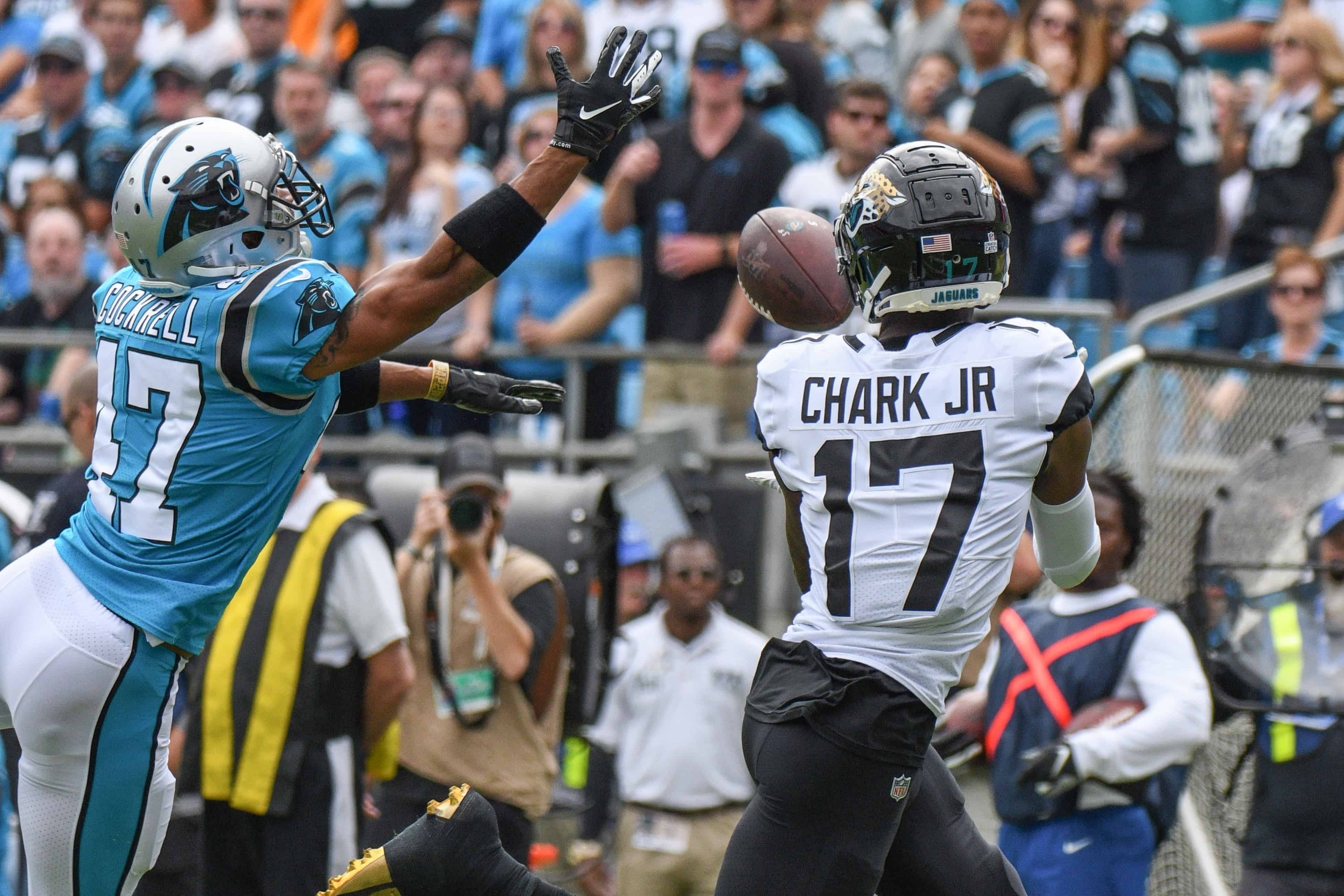 Chark Jr.'s 2020 season was not as bad as what we all thought it was at the end of the year. This was more of a case of fantasy managers wanting more instead of acknowledging what was really happening. This team was not gifted with several above average pass-catchers, they were not gifted with a capable quarterback, and they were not gifted with a defense to create stops and opportunities. The Jags were the definition of a "dumpster fire" last season aside from surprise breakout player, James Robinson. Chark Jr. is the unquestioned WR1 in Jacksonville currently, and he is getting Christmas in April with the gift of Trevor Lawrence. Chark Jr. is going to be put in some situations where they are playing from behind and have some garbage time opportunities, but he is going to be the go-to guy for his young quarterback as he develops. Chark Jr. could be the T.Y Hilton to Andrew Luck, the Pierre Garcon to RG3, the Marvin Harrison to Peyton Manning, or even the Brandon Marshall to Jay Cutler! This duo is going to be forced a bit at times and experience growing pains, but it cannot be stated enough, the opportunity that we are seeking is as high as anybody in this duo. 
25) Diontae Johnson/Chase Claypool – Pittsburgh Steelers
Yes, there are two receivers that sit 25th on this list. Diontae Johnson and Chase Claypool are tied for now in our dynasty rankings. Both are too valuable in dynasty leagues to fall outside of the top-25. Johnson (24) and Claypool (22) are two very talented wide receivers who happen to play on the same team, but they have two completely different skill sets. They both play on the outside, but Johnson could surely play the slot position. He's a burner who can beat you deep on any given play. The two-year-pro finished as the WR21 last season, but he put together six games with at least 20 PPR points. On the other hand, Claypool is a bigger receiver (6'4" and 229 lbs) who uses his strength and size to his advantage. He finished as the WR23 last season as a rookie, and he put together five games with at least 14 PPR points. He only topped 20 PPR points once, but when he did, he actually produced 35.6 PPR points. Both players have high ceilings, and JuJu Smith-Schuster came back to Pittsburgh on a one-year-deal. After this season, expect Johnson and Claypool to be Pittsburgh's top two receivers for a LONG time. 
And that's it! Other notable mentions include: Jaylen Waddle, Juju Smith-Schuster, Julio Jones, Brandon Aiyuk, Adam Thielen, Tyler Lockett, etc., etc., ETC. It is important that you solidify your team with a talented wide receiver that can produce and dominate for years to come. Remember, you could be potentially tied to your receiver for several years, but you also have the opportunity to trade one of your stars for assets of your choosing (draft picks, positions of greater needs, etc.). It's all on you. YOU ARE THE DYNASTY GM OF YOUR OWN TEAM.
Did you enjoy this article and want more fantasy content? Make sure to check out our recent posts, and stay tuned for other fantasy content in the future. You can also follow us on Twitter @dirrim23 and @ClaytonHoffard, where we love talking about all things fantasy football!