Christian Gonzalez
School

: Oregon (Via Colorado Transfer)
Scheme Type

: Versatile/Man Press/Off Man
NFL Combine Results
Height

: 6'1"

Weight

: 197 lbs

Arms

: 32"

Hand Size

: 9 ½

40-Yard Dash

: 4.38

Vertical

: 41.5"

10-Yard Split

: 1.54

Broad Jump

: 11'1"

Bench Press (225 lbs)

: 14 Reps
2022 Stats (Via PFF) + (Sports Reference CFB)
Games Played

: 12

Tackles

: (50) Total/(35) Solo

Ints

: (4)

TD's

: (3)

Targets

: (64)

Catches

: (39)

Opposing QB Rating

: (74.7)

Forced Incompletions

: (9)

Int Return Yards

: (118)

Missed Tackles

: (3)

Dropped Interceptions

: (1)
Games Watched: (2022) @ Georgia, (2022), (2022) @ Colorado, (2022) @ Washington State, (2022) vs Utah, (2022) vs UCLA, (2022) vs Washington.
NFL Comparison: Jason Sehorn
SIZE/ATHLETICISM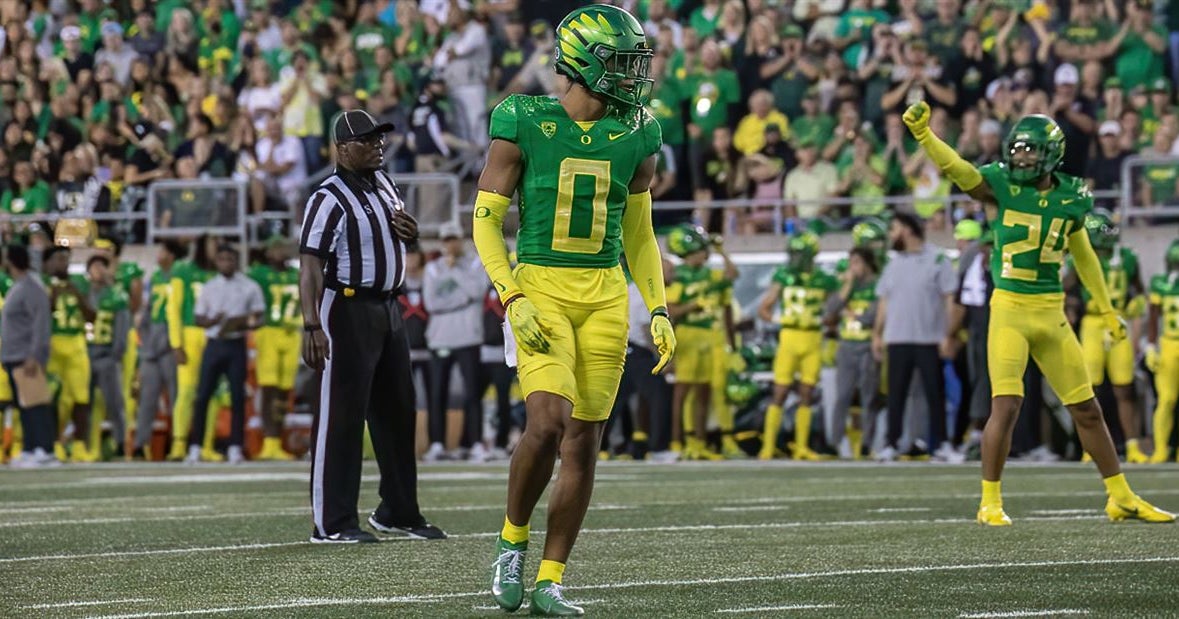 Rare combination of size & physical traits

Nearly 6'2" and almost 200 lbs paired with disreputable reach.

Has the prototypical stature and fluid athleticism to compete with bigger or smaller receivers

Possesses elite and effortless long speed to cover deep routes.

A bit of a long strider, but has the ability to quickly flip his hips, comfortably shuffle, and transition left or right.

Outstanding leaper with impressive body control

Despite his size and athletic profile, he's not the strongest nor most physical corner.
GRADE 9.2 
RECOVERY SPEED
Former track athlete sticks his foot in the ground and gets straight line in no time.

Does a good job of staying in phase but when he does lose hold of his man he has the burst to close space immediately

Playing speed matches the 40 time, has the ability to cheat more often due to the confidence he has in his ability to make up ground.

Has really sound and efficient footwork which helps him along with his natural speed to stay in hip pockets.

Reaches top speed in a hurry with limited steps.

Knows how/when to put a kick step into play to gain easier acceleration. 
GRADE 8.6
TACKLING
Willing tackler in run support but doesn't play as physical as his size & athletic profile would lead to expect.

Won't always wrap up more of a shoulder tackler, sometimes (Just does enough)

 Only was tagged for 3 missed tackles over this past season, but has a tendency to allow ball carriers to bring the collision to him to often and will find himself committing to many drag down tackles

Will get the job done, but needs to get stronger and more physical at the point of attack against blockers when it comes to disengaging and making plays. (Could find himself in a Cover 2 Scheme)
GRADE 8.4
INSTINCTS/BALL SKILLS
Intelligent Corner that does an overall solid job of read & reacting.

Routinely gets his head around and plays the ball, knows when to play the receiver and when to play the ball. (Difference between a

PBU

and a

PI Call

His athletic patience as well as eye discipline give him more opportunities at making plays.

Soft hands, and highpoints the ball very well

Height blended with long arms, agility, and 41 + inch vertical allows Gonzalez to always be in position to take the ball away.

Technically sound when going up with the receiver to break up the pass gets his hand between the receiver's hands and bats the ball down as taught.

Needs to go after the football more.

Will play for the

pbu

when he has just as much opportunity to take the ball away.

Will watch and bait the QB better than any corner I've seen coming out of college in sometime.

Seems to have issues (instincts wise) with playing the underneath routes as well as he does everything else in regard to the boundaries, perimeter, and deep quarters of the field.
GRADE 8.8
MAN COVERAGE
Possesses all of the physical traits of a shutdown man corner and utilizes them all well.

Plays the receiver to the boundaries with good body lean all while avoiding penalties and still being in phase to disrupt the catch.

Hard to beat as a QB with a bad throw or late! Recovers well and is too physically gifted, will find the football.

Very patient and technically sound within 5 yards, plays with impressive balance, stays even, keeps the gate closed, and will ride the receiver where he needs to in order to disrupt the timing of the route.

Very seldom out of phase and always within arms and speed reach of the man he's covering.

Will occasionally allow receivers to cross his face (cardinal sin in man coverage) and give up plays he really shouldn't.
GRADE 8.7
ZONE COVERAGE



Struggles with consistently reading/diagnosing, making a timely decision and breaking downhill.

Can move a little clunky when playing too far off. Could be indecisiveness on what's going on in front of him, not comfortable out of phase, or he could just have an issue with planting and exploding forward.

Not as patient in Zone has a tendency to open up too early, lose route leverage and give up easy completions.

Has the quick twitch and hip fluidity to become better in Short Zone responsibilities.
GRADE 7.7
POSITIVES: Size, athletic profile, rare combination of both/ natural ability to mirror and play the receiver/ instinctive player
NEGATIVES: Zone limitations? Physicality in run support, underneath coverage, 1 year of decent ball production
OVERALL GRADE 8.5